Two Beaver OK Girls Compete in the Oklahoma State Fair Pedal Pull
Joe Denoyer - September 12, 2023 10:47 am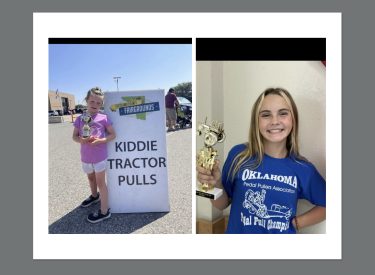 Bu Mindy Lee
Two young ladies from Beaver County made their way to Norman Oklahoma September 9th for the
Cleveland County Fair. The State Pedal Tractor Pull was held during the fair events. Aubree Wilson age
10, from Beaver and Rocelyn Reed age 6 from Forgan qualified for the state event. The girls qualified
during the KPRA Sanctioned Rodeo sponsored by NextEra during the 2023 Cow Chip and Beaver County
Fair held August 24th in Beaver Oklahoma. The girls competed against girls their age in the local pull;
Wilson placing 1st in county in the 10-year-old division and Reed placing 1st among 6-year-olds.
Rocelyn Reed who placed 4th at State, is a kindergartner at Forgan Elementary. She is the daughter of
Tate and Jessica Reed. She is the oldest of 2 siblings, Marshall and Logan. Rocelyn Reed is the
granddaughter of Bill and Lynetta Stout of Forgan.
Aubree Wilson who placed 2nd at State, is a 5th grader at Beaver Elementary. She is the daughter of
Mindy Lee. She is the youngest of 2 siblings, Percy Lee of Beaver and Connor Wilson of Wichita Kansas.
Aubree Wilson is the granddaughter of Pam Lee and Jack Bryce of Turpin and Norman and Pennie
Romero of Russell Kansas.
Wilson and Reed will represent Beaver County as well as the State at the National Peddle Tractor
Championship held on September 23, 2023 in Mitchell South Dakota.