Two Arrested on Trafficking Charges Following Multi-Agency Effort
Joe Denoyer - December 5, 2018 10:32 am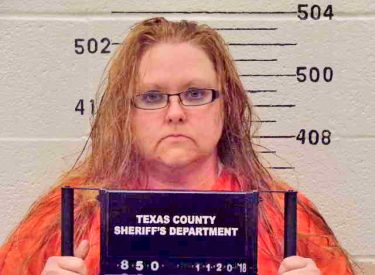 KODAK Digital Still Camera
By April Coble
Guymon Daily Herald
A man and woman have been arrested on felony trafficking charges following a search warrant executed on their residence in Tyrone on Nov. 20, leading law enforcement to find methamphetamine destined for distribution, as well as firearms on the premises.
On Nov. 20, an agent with the District One Narcotics Task Force obtained a search warrant authorizing a search of a residence located at 307 Arbell in Tyrone for controlled dangerous substances and other items of evidence related to the possession and distribution of controlled dangerous substances.
Upon arrival, law enforcement encountered 37-year-old Melissa Lynn Abla in the front yard of the home, and 49-year-old Everett Bryan Tomlinson in the front room of the home. Both Abla and Tomlinson were detained.
Upon entering the home, an agent located two loaded handguns, a Glock model 19 9mm pistol and a Hy Hunter 25 caliber pistol, on the couch where Tomlinson had been seated. Tomlinson was advised of his rights and agreed to speak to agents.
An agent took notice of Tomlinson's obvious concern about the situation, and stated to him that it appeared they had picked a good day, to which he allegedly replied, "Sir, any day would probably be a good day for you to be here."
An agent asked Tomlinson where to look in an effort to save time, and was directed toward the freezer in the kitchen.
Agents found a Crown Royal bag and other smaller bags of methamphetamine, weighing in at approximated 990.7 grams. Agents were directed to two more firearms in a safe inside the residence; a Bryco Arms 9mm pistol and a Markov 9mm pistol. A "one size fits most" style pistol holder was also located, indicating that one or more of the firearms had been or could have been carried on someone's person.
A search of the remainder of the residence yield another 12.64 grams of methamphetamine in one area, and another 63 grams in another Crown Royal bag on the couch, along with two sets of digital scales and a large number of new, unused small plastic bags.
After verbally confirming Tomlinson understood his rights, Tomlinson allegedly informed agents he had been traveling to Oklahoma City to purchase methamphetamine that he then distributes to individuals in the regional area around Texas County. He allegedly stated he had been doing so for a year to a year and a half, and that he could not pass a drug test.
Agents then conducted an interview with Abla. Abla was also advised of her rights and waived them to speak with law enforcement. She allegedly stated to agents that she was not actively involved in distribution of the methamphetamine, but had driven to locations where she believed he was conducting transactions to purchase and distribute. She allegedly stated she had travelled to Oklahoma City with Tomlinson on Nov. 17, at which time he purchased one kilogram of methamphetamine.
Abla and Tomlinson both face charges of felony aggravated trafficking methamphetamine within 2,000 feet of a school or park; felony conspiracy to commit aggravated trafficking of methamphetamine within 2,000 feet of a school or park; felony possession of a controlled dangerous substance without a tax stamp affixed; felony maintaining a place for keeping or selling a controlled substance; felony possession of a firearm during the commission of a felony; and misdemeanor possession of drug paraphernalia.
District Attorney Narcotics Task Force Agent In Charge Kevin McIntire expresses his thanks to the Oklahoma Bureau of Narcotics, Moore County (Texas) Sheriff's Department, Cimarron County Sheriff's Department, Texas County Sheriff's Department, Guymon Police Department and Elkhart (Kansas) Police Department for assistance in the investigation leading to the two arrests.