Two Aggies Named Pre-Season All Americans
KSCB News - July 16, 2014 7:09 am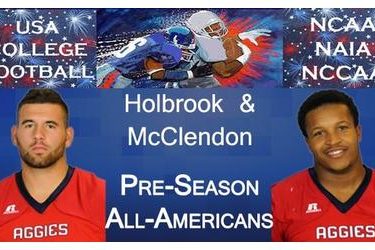 Holbrook and McClendon Named Pre-Season All-Americans
By Justine Gaskamp on 07/15/2014
Goodwell, Okla.-USA Football Network, Inc. recently released its 26th USA
College Football Division II Pre-Season All-American Teams which included
two players from Oklahoma Panhandle State University; quarterback Caleb
Holbrook and running back Chris McClendon.
Each entering their third season with the Aggies, Holbrook has been named to
the First Team-Offense and McClendon is honored on the Second Team-Offense,
both as Pre-Season All-Americans. OPSU Offensive Coordinator Lucas Peters is
extremely proud of these young men stating, "Not only do they deserve to be
named All-Americans because of their play on the field, but they are just as
good of people off the field. I'm lucky enough to get to coach both of these
guys and they make it fun to come to work every day."
Holbrook is entering his senior season at the helm of the Aggie offense; he
started as a sophomore after transferring from Blinn College (Texas) in
2012. The Groesbeck, Texas native accumulated over 2,700 all-purpose yards
and totaled 25 touchdowns for the Aggies in 2013 alone; after a productive
spring practice Holbrook looks to finish strong in 2014.
Hailing from Parkview High School in Rixey, Ark., McClendon will be an
integral part of the Aggie offense his junior season. The physical running
back came close to breaking 1,000 yards in 2013, finishing the season with
964 rushing yards. As an all-purpose back McClendon also brought down 25
receptions last year, and has totaled 11 touchdowns in his career as an
Aggie; he is surely a force to be reckoned with as he enters this season
ready to run.
Peters continued, "I expect each of them to be the best players at their
positions versus anybody we play this year. They have worked hard; this team
and program matters to them, and they deserve any accolade that comes there
way. I wouldn't trade either one of them for anybody in the country."
The All-American teams are selected by a national panel including head
coaches, sports information directors and various journalists representing a
number of sports writing associations. Following is the direct link to the
roster of D-II Pre-Season All-Americans:
http://www.usacollegefootball.org/14D2.htm.
Aggie fans are invited to Carl Wooten Field for this year's first home
football game against Fort Lewis College on Saturday, Sept. 13 at 7 p.m.;
watch and support the Aggies and these two fine student-athletes as they
kick off the 2014 season!
###
Justine Gaskamp
Sports Information Director