Turpin's Kirkharts Helps Set Track Record
KSCB News - May 31, 2012 1:47 pm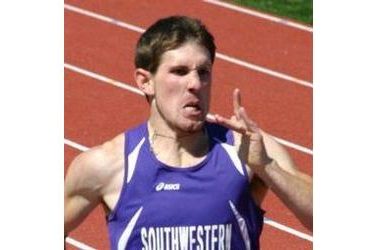 Turpin native Chandler Kirkhart helped set at record on the Southwestern College track and field team. The former walk-on and local country music star helped set a school record recently at the NAIA Outdoor Championships. Here is the press release from Southwestern College regarding the record.
Marion Ind.- The SC men's 4 x 100m relay team highlighted an outstanding 3 days of competition at the 2012 NAIA National Outdoor Championships. A total of nine All-American performances made for a very rewarding completion to the 2012 track season.
The 4 x 100 Relay time of 40.64 was good for a 4th place finish and All-America honors. Their time broke a 17 year old record which was set in 1995 with a time of 40.88.They entered the meet with a qualifying mark of 41.63. The relay consisted of Kevin Rodgers, Chandler Kirkhart, Elliot Muegge, and Colton Siler.
"I couldn't be prouder of the 4×1 relay," commented head women's coach and sprint coach Mike Kirkland. "They entered the meet ranked 10th with a 41.63 and when they ran 41.04 in the prelims, I knew they were determined to be on the podium and All-Americans on Saturday. To survive 2 rounds and then run 40.64 in the finals was phenomenal. It was a very special moment."