Turpin Re-Tools After 8-3 Season
Brock Kappelmann - August 14, 2023 7:16 am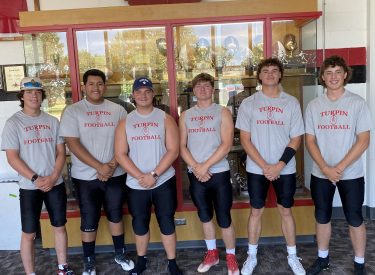 The Turpin Cardinals were a good football team last year.  They went 8-3 and had a strong 10 member senior class.  In 2023, 11th year head coach Justin Hannah and the Cardinals have just two starters back on both sides of the ball and 24 out for football at the class B school.  But Hannah says although  the Cardinals don't return many starters, his juniors and seniors have lots of varsity reps and were successful groups coming up the ranks in Turpin.  And recent success is on Turpin's side as the Cardinals have advanced to the playoffs and had winning seasons in eight of the last nine years.
Some of the key Turpin players are Jr. all district RB/DB Jhett Huffman, all district Sr. G/NG Ryan Hammock, Jr. QB/DB Carson Peters, Sr. OL/LB Carson Hendrich, Sr. WR/DE Nash Levins, Sr. OL/NG Ricky Olguin, Sr. WR/DB Austin Peters, Sr. RB/DE Gunner Post.
The Cardinals are featured during the Sportsguys Monday morning.
Schedule
August 25- at Springfield
September 1- Tyrone (102.7)
September 8- at Boise City
September 15- Buffalo
September 29- at Ringwood
October 5-  Beaver
October 12- at Balko-Forgan
October 20- Shattuck
October 27- at Laverne
November 3- Hollis