Turnovers Costly in Loss at East
Brock Kappelmann - October 12, 2019 7:48 am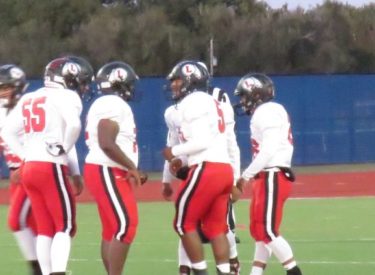 Liberal found a different way to lose.  This time it's the turnovers.  Liberal lost their fourth straight game Friday night at Carpenter Stadium in Wichita.  The Wichita East Aces feasted on four Liberal turnovers to beat LHS 48-12.  The game used a running clock in the fourth quarter.  Liberal's four turnovers led to 32 East points on ensuing possessions.
Liberal's Syris Dunlap rushed for a first down as the Redskins faked a punt on their first possession.  East's Norman Massey scored on a three yard run at the 6:56 mark and led 8-0 after the two point conversion.  East's Amos Alford intercepted a Dunlap pass at the 3:33 mark.  Massey's six yard run and two point conversion made it 16-0 at the end of one.  East's Nickendre Stiger found the 6'6″ Alford on a 29 yard touchdown on 4th and long.  The two point conversion made it 24-0 with 7:11 to play in the third.  East recovered a Liberal fumble.  It led to a 37 yard TD from Stiger to Alford.  With four second remaining in the half Dunlap took a hand off and threw a 48 yard TD to Malcolm Wiltshire for a 32-6 halftime score.
Stiger's 41 yard touchdown pass to Jones on 4th and nine gave the Aces their second 4th and long touchdown pass on the night. Alfrod intercepted a Dunlap pass.   Stiger found Jones for a 39 yard score at the 5:08 mark of the third to lead 48-6 and make it 32 points after a turnover.  Shay Kerr found Hunter Hatcher for a 32 yard score.  Jose Beltran and Josh Arafol intercepted passes.  Liberal only gained 176 yards of offense.
Liberal loses for the fourth straight time and falls to 2-4 and East  is 4-2.  Liberal plays at Great Bend Friday night at 7 with Redskin Pre-game at 6 on 1270 and kscbnews.net.