Turnovers Costly for Lady Saints in Season Ending Loss
Brock Kappelmann - April 7, 2021 9:32 pm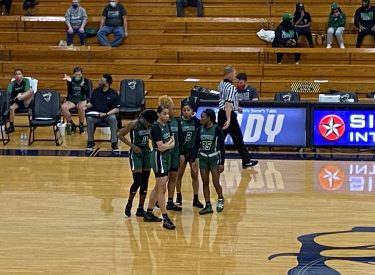 Both the Seward Lady Saints and Independence Lady Pirates committed 33 turnovers.  Forcing turnovers is something the Lady Saints have done all season.  But they didn't take care of the basketball enough to win a road Region 6 Tournament game Wednesday night on the ICC Field House.  Indy stormed back to sink Seward's season 70-61.
Seward came out ready to play taking leads of 9-0, 13-4, 15-6, and 18-8.  Seward led 20-12 after one quarter.  Indy outscored the Lady Saints 15-9 in the second quarter to make it 29-27 SCCC at the half.  Sierra Morrow buried a pair of three's and took a 35-29.  Seward led 37-29 before the Lady Pirates went on a 6-0 run to make it 37-35.  The Lady Saints used an 8-0 run to lead 45-35.  Indy's Eriel West hit a 40 footer at the buzzer at the end of three to ignite the Independence crowd.  That made it 47-42 Lady Saints at the end of three.  Independence out scored Seward 28-14 in the fourth quarter and finished the game on a 31-14 run.
Seward hung tough on the boards as Indy  out rebounded SCCC 43-40.  Seward shot 30 percent and Indy shot 39 percent.  Seward was 10-32 from three and Independence was 7-16.  The Lady Saints made 9-13 free throws and the Lady Pirates were 15-29.  Independence shot 46 percent in second half and went 6-11 from three in the second half.
Sydney Wetlaufer scored 19.  Madina Camara scored 13 and Sierra Morrow had 12 points and eight rebounds.
It's the first time the Region 6 semifinals don't include Seward since 2014.  Seward finishes 17-6.  Independence is 18-6 and faces Hutchinson in the semifinals.