Tuesday's Games
KSCB News - November 2, 2010 12:00 am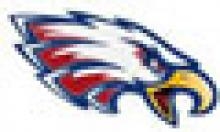 Hugoton is in the playoffs for the second straight year. The 4-5 Hugoton Eagles travel to central Kansas to play 9-0 Buhler. The Crusaders head coach is Steve Warner who is 43-13 in his fourth year as Buhler's coach. Warner was Liberal's head coach in 2004 and 2005. Buhler handed last year's Eagles their only loss of the year in the second round of the playoffs.
The 7-2 Ulysses Tigers host an old foe tonight. The 5-4 Pratt Greenbacks face Ulysses tonight at Maxwell Field in Ulysses. Both games kick off at 6 p.m. Tuesday night.
8-1 South Haven coached by LHS graduate Justin Pond faces 8-0 Lost Springs-Centre tonight. Pond is an assistant at the 8 man division 2 school in south central Kansas.