Tuesday Afternoon Grass Fire Threatens Homes On Southwest Edge of Guymon
KSCB News - January 26, 2011 10:26 am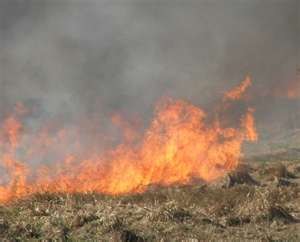 Tuesday Afternoon Grass Fire Threatens Homes On Southwest Edge of Guymon
Tuesday afternoon at 1:20pm, Guymon Firefighters responded to a reported grass fire just southwest of Indian Hills addition in Guymon. First arriving fire units found a large grass fire that was threatening the homes in Indian Hills and also being driven towards the Elks addition homes.
??Guymon Firefighters quickly recognized the need for additional help and requested fire units from Goodwell and Hooker ? , said Assistant Fire Chief Grant Wadley. Until the addition units arrived, the Guymon units worked as hard and as fast as possible to stop the fire from getting any closer to the nearby homes. Ruff and steep terrain made it very difficult for firefighters to gain control of the fire.
Fire investigators found the fire to have started by a rural resident cooking outside on an open grill on the ground. ??The grill was found not to be in an appropriate container which caused the fire to spread to the nearby dry grass then immediately spread to other nearby pasture land ? , stated Wadley.
Firefighters contained the fire by 3:15pmwith an estimated over 500 acres of pasture land burned. Fire approached homes but was stopped by firefighter before any damage to these homes occurred. Fire units remained on scene till 7pmlast night assuring areas in the terrain were completely extinguished. Estimated cost of damage is not present at this time. No evacuations occurred and no injuries were reported.
Guymon Firefighters were assisted by Goodwell firefighters, Hooker firefighters, Texas County District #2, Texas County Emergency Management, and Texas County Sheriff Office.