Triple the Pleasure the Redskins on Homecoming
KSCB News - February 13, 2016 7:53 am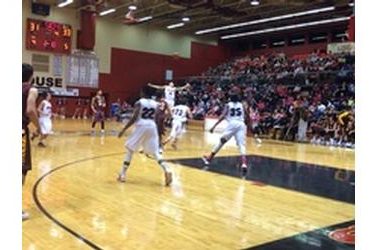 As if double overtime Tuesday wasn't enough, Liberal defeated Hays 57-51 in triple overtime Friday night on LHS Winter Homecoming in the Big House. The Redskins move into a tie for first in the WAC at 4-1.
The Indians, ranked sixth in 4A division 1, led 14-11 after a quarter and 23-20 at halftime. Hays led 31-25 after three quarters and led 33-25 with 7:40 to play in the game. But Liberal used a 9-0 run to take a 34-33 lead after a three point play by Deladris Green with 4:27 to go. But the Indians jumped right back in front 38-34. A circus shot by Cade Hinkle over his shoulder on a driving lay up right side made it 38-37. The Indians took a 40-37 lead. But with 6.5 second remaining, Hinkle rattled in a guarded three from the right to tie the game at 40. Hays' Drew Young drove the middle of the lane and missed a a runner which Isiah Nunnery tipped in for an apparent 42-40 Hays win at the buzzer. But officials ruled the tip came after the buzzer so the game went into overtime.
The Redskins scored first in overtime when Kylan Thomas soared for a rebound and put back and made a free throw. Young buried a three to tie it at 43-43. Hinkle's right wing three at the end of the first overtime just missed. Liberal fell behind Hays twice in the second overtime but Tim Fitzgerald scored all six in the double OT as the teams were tied at 49-49. In the third overtime, Hinkle made one of two at the line to make it 50-49 before Hays took a 51-50 lead. Liberal took a lead of 52-51 and 54-51 before a break away dunk by Green made it 56-51 with 24 seconds left.
Green had 14 points and 10 rebounds while Hinkle and Fitzgerald added 13 a piece. Liberal shot 35 percent from the field but Hays was 1-8 from the foul line and missed multiple free throws in the closing seconds of regulation and overtime.
Liberal won on a story book night after Tim Fitzgerald was announced as homecoming king and placed the crown on Daniel Rivera's head. Rivera is a wrestler and homecoming candidate who has Down's Syndrome.
Liberal is 12-4 and 4-1 in the WAC while Hays is 13-3 and 4-1. Liberal plays at Cimarron at Cimarron after 8 Tuesday on 1270 and kscbnews.net.