Triple the Pleasure for Liberal
KSCB News - June 28, 2011 6:47 am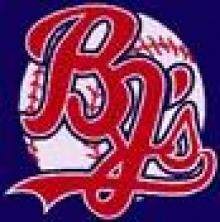 Liberal hit three triples in a 9-1 win over the Greeley Grays Monday evening at Brent Gould Field. Micah Green led off the bottom of the first with a three bagger which was a sign of things to come. Ryan Walker and Reagan Pearson added triples in the win which lasted just seven innings due to run rule. The BJ's are in the third day of a stretch of playing 12 straight days.
Liberal plated one in the first, five in the fourth, and three in the sixth. The BJ's had 10 hits and held the Grays to five.
Hard throwing left hander Robbie Ingram (2-3) pitched six innings striking out five, walking three, and allowing one earned run for the win. Nick Youpel pitched a scoreless seventh.
Jake Barrios collected his fourth straight multiple hit game going 2-4 with an RBI and a run. Barrios is 10 for his last 15. Reagan Pearson had two hits, an RBI, and a run.
The Bee Jays are 17-5 and host Greeley again Tuesday night at 7 p.m. at Brent Gould Field. Southern Pioneer Electric is the Buyout Sponsor.