Trio of Lady Saints Receive All Conference Honors
KSCB News - March 8, 2016 6:49 am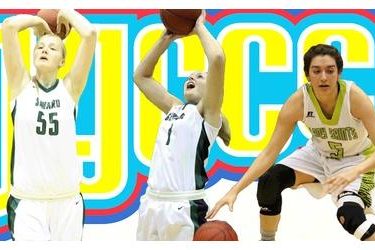 Following a 25 win season and runner-up finishes in the Jayhawk Conference and the Region VI Tournament, three Seward County Lady Saints have been named All-Conference as announced by the league Monday. Sophomore Axelle Bernard was the Lady Saints top vote getter, garnering 1st Team All-Conference accolades, while freshman Joanna Grymek also earned a 1st Team All-Conference nod and sophomore Daniela Galindo picks up 2nd Team All-Conference honors.
Bernard earned 1st Team All-Conference honors after averaging just under a double-double during her sophomore season. Bernard put up 10.9 points and 9.8 rebounds per game this season and was also a force defensively with 2.5 blocks per game. Her 9.8 rebounds per game ranked 2nd in the league while her 2.5 blocks per game ranked 3rd. She recorded 14 double-doubles on the season, scoring in double figures 20 times and pulling down 10 or more rebounds 19 times.
Grymek was also chosen as a 1st Team All-Conference selection, averaging 13.4 points and 6.6 rebounds per game while also blocking 2.2 shots per night. She had a number of dominating games in 2016 including six 20 plus point games, scoring a career high 28 against Fort Carson and 26 against Independence. Grymek came up big down the stretch during Seward's run to the Region VI Championship game, scoring in double figures in all four Lady Saint playoff games including 58 points on 25-32 shooting in the first three rounds.
Battling a lingering second semester injury, Daniela Galindo still managed to finish second on the team in scoring at 12.1 per game to earn herself 2nd Team All-Conference honors. Galindo hit 70 threes this season which was 6th best in the Jayhawk Conference, shooting 38% from beyond the arc, making her the 5th most accurate shooter in the league. Galindo scored in double figures 18 times on the year including a school record 50 point performance early in the season in which she also broke a school record making 10 threes in that game.
Garden City's Shala Dobbins and Hutchinson's Kirea Rodgers shared both league Most Valuable Player and Freshman of the year honors while Blue Dragon Head Coach John Ontjes collected another Coach of the year award. Garden City led all Jayhawk teams with four All-Conference selections while Seward, Cloud County, and Coffeyville each had three.
Roy Allen