Trifonov Selected To Lead Lady Saints Volleyball
Joe Denoyer - July 26, 2018 8:47 am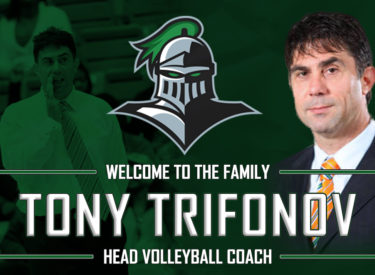 LIBERAL, Kan. – Following a national search, the Seward County athletic department has announced the hiring of Tony Trifonov to become the eighth head coach for the Lady Saints volleyball program.
"I am extremely grateful and feel very honored to be selected as the next head volleyball coach at Seward County Community College," said Trifonov. "I would like to thank President Trzaska, Director of Athletics Roy Allen and the members of the search committee for this opportunity. I am looking forward to arriving on campus, meeting the team and the Liberal community, and of course, hit the ground running."
Trifonov comes to Seward following a twenty-one-year stint with NCAA Division I Florida A&M University.  Over his twenty-one-year career with the Rattlers, Trifonov accumulated a 378-218 overall record, while going a stunning 206-10 in the Mid-Eastern Athletic Conference, winning the MEAC nineteen times. From 2001-2008, the Rattlers won 112 consecutive conference matches, the third longest streak in NCAA history.
"We are extremely fortunate to have someone with Tony's experience and success lead our volleyball program into the future," said Director of Athletics Roy Allen. "To be able to bring someone to Seward County that has won 19 Conference Championships in 21 years at the Division I level has instantly bolstered the strength of our athletic team.  Tony is passionate about his players and his program and will continue to elevate Lady Saints on the national stage."
Trifonov has shown development of players on the court, producing 45 First-Team MEAC All-Conference selections, seven MEAC Players of the Year, four Rookies of the Year, two NCAA All-Americans and an Olympian. As a coach, he was awarded the MEAC Coach of the Year on six separate occasions.
Prior to Florida A&M, Trifonov founded the Florida West Coast Volleyball Academy where he helped over 30 athletics receive NCAA Division I volleyball scholarships while competing in the Junior Olympic National Championships.
The Lady Saints are coming off a 33-2 season and back-to-back Jayhawk Championships.  They will open the season at the NMMI Kick-Off Classic in Roswell, New Mexico on August 24 against Yavapai College.  The home opener will be on September 1 at 6:30 p.m. against Garden City.