Triangle of Terror for Seward
KSCB News - November 27, 2010 12:00 am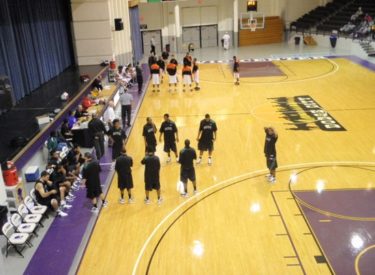 KSCB traveled from Liberal to Garden City to Dodge City traveling the famous Southwest Kansas "Triangle" Friday. But it was a black Friday in more ways than one for Seward's men's and women's basketball teams who both lost games to Jayhawk East favorites. The Lady Saints, who were 31-3 last year fall to 5-2 after a blowout loss to #17 Independence 74-53 Friday afternoon in Garden City. Seward had 15 first half turnovers and 20 for the game and made just 6-21 free throws in the loss. Kelsey Wilson led Seward with 14 points. Seward plays an undefeated New Mexico Junior College team who defeated Garden City 63-50 Friday night. The game tips off at 1:30 Saturday on B107.5 and kscbnews.net.
The Seward men fell short 80-74 to Cowley at the Dodge City Civic Center. Seward led by as many as nine (13-4) early but trailed by nine 37-28 at halftime. Seward head coach Bryan Zollinger says his guys missed too many bunnies. "They played with a lot more toughness than we did," Zollinger said. "We had at least eight layups tonight that we failed to convert. We're trying to be cute and reverse it and double clutch it and jump into people to try to draw the foul instead of just making the layup."
Seward actually out scored the Tigers (7-2) 46-43 in the second half. Cowley out rebounded Seward 45-33. The Tigers connected on 26-32 free throws. Iowa State signee Tyrus McGee lit up Seward for 29 points. Seward got 17 from Marky Nolen while Irvin Hollinger added 13; Rafriel Guthrie had 10; Jeremy Jones scored 10; and Phil Hawkins added 10. Seward falls to 5-2. They face New Creations Prep Academy Saturday night at 5:30 in Dodge City on Talkradio 1270 and kscbnews.net.