Transmission Lines To Extend Into Nebraska
KSCB News - July 6, 2010 12:00 am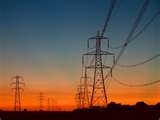 Kansas regulators have approved the second
phase of a massive electric transmission line from the southwestern
part of the state into south-central Nebraska.
The power line will eventually stretch 225 miles from
Spearville, Kan., to Axtell, Neb. Phase I of the project, from
Spearville to Hays, was approved last year.
The Kansas Corporation
Commission has now approved Phase II, a 345,000-volt line from Hays
to the Nebraska border. The 85-mile line will be built on single
steel poles, each 100 to 150 feet tall and spaced about 900 feet
apart.
Topeka-based ITC Great Plains is building the Kansas stretch of
the line. Construction of the second phase is expected to cost
nearly $92 million.
The Kansas Corporation Commission collected public input at
several hearings before issuing its order last week.
—