Train Derailment Trial in Cimarron Cancelled
Joe Denoyer - November 27, 2018 8:06 am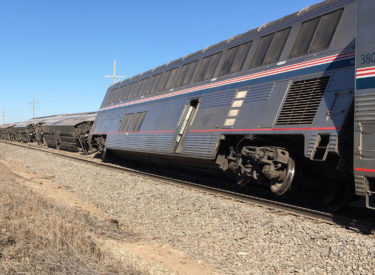 photo courtesy of Chicago Tribune
The upcoming trial over the Kansas derailment of an Amtrak passenger train has been cancelled after Cimarron Crossing Feeders admitted its runaway feed truck damaged the railroad track.
Trial had been scheduled to start next week to determine who is responsible for the March 2016 derailment of Amtrak's Southwest Chief City near Cimarron, about 20 miles west of Dodge. More than two dozen people were injured.
A federal judge summarily found earlier this month that there was no legal fault on the part of Amtrak or BNSF, which owns the track. That left only Cimarron as potentially liable for damages at trial.
Cimarron stipulated in a filing Wednesday its employee was negligent in not setting the brake on an unattended truck, allowing it to roll downhill and strike the track.