Tragedy Strikes Suburban Denver Movie Theater
KSCB News - July 20, 2012 6:45 am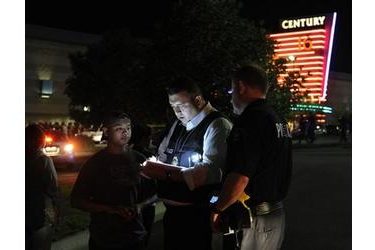 By THOMAS PEIPERT
Associated Press Writer
AURORA, Colo. (AP) – A gunman opened fire early Friday at a
suburban Denver movie theater on the opening night of the latest
Batman movie "The Dark Knight Rises," killing 14 people and
injuring at least 50 others, authorities said.
The gunman, who is in custody, stood at the front of the theater
and fired into the crowd about 12:30 a.m. MDT at a theater at a
multiplex theater in a mall in Aurora.
"Witnesses tell us he released some sort of canister. They
heard a hissing sound and some gas emerged and the gunman opened
fire," Aurora Police Chief Dan Oates said at a news conference.
Police, ambulances and emergency crews swarmed on the scene
after frantic calls started flooding the 911 switchboard, officials
said.
Officers found the gunman near a car behind the theater.
"A gas mask, rifle, handgun at least one additional weapon
(were) found inside," he said.
The suspect was taken into custody, but no name was released.
Oates said there's no evidence of any other attackers. There was
also no immediate word of any motive.
The suspect spoke of "possible explosives in his residence. We
are dealing with that potential threat," Oates said, without
providing details on where that was.
He said police also checked for explosives in the parking lot
and at the Century 16 theater and secured those areas.
Witness Hayden Miller told KUSA-TV that he was inside Theater 16
and heard several shots.
"Like little explosions going on and shortly after that we
heard people screaming," he told the station.
Hayden said at first he thought it was part of a louder movie
next door. But then he saw "people hunched over leaving theater."
The police chief said 10 victims died at the theater and four at
area hospitals.
Two people in critical condition were rushed to nearby Swedish
Medical Center, spokeswoman Nicole Williams said.
She said emergency crews told her staff to prepare for several
more patients from the shooting scene.
The youngest victim reported was a 6-year-old being treated at
Children's Hospital Colorado, where a total of six victims were
taken. Their condition wasn't known.
Their condition wasn't known.Aurora is located on the southeast
outskirts of Denver, about 10 miles from downtown.
MANALAPAN, Fla. (AP) – President Barack Obama says he is
"shocked and saddened" by a deadly shooting at a suburban Denver
movie theater. He is urging the nation to "come together as one
American family."
Obama says he and first lady Michelle Obama were shocked by the
"horrific and tragic" shooting. Obama says his administration
will do everything they can to support the people of Aurora, Colo.
A gunman opened fire early Friday at a theater on the opening
night of the latest Batman movie, "The Dark Knight Rises."
Authorities say 14 people were killed and at least 50 others were
injured.
Obama was in Florida at the time of the shooting. The White
House says Obama was informed of the shooting by his Homeland
Security Advisor, John Brennan, at 5:26 a.m. EDT.