Traffic Stop In Guymon Results In Drug Bust
KSCB News - September 29, 2009 12:00 am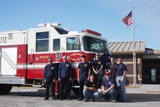 A man allegedly trafficking over 30 pounds of marijuana was arrested on Sept. 17.
Kevin Reddick, 32, of Illinois, was pulled over on Hwy. 54 for following too closely. Officers later discovered the marijuana and prescription pills.
According to the Texas County Court Clerk's Office, officers asked for Reddick's consent to search the white Dodge Dakota he was driving, but he denied consent. Officers then deployed the K-9 unit to walk around the vehicle, where the K-9 alerted to the presence of illegal narcotics in the vehicle, giving officers probable cause to search.
According to a story in the Guymon Daily Herald, upon searching the vehicle, officers found two large plastic bags in the bed of the truck, the bundles were wrapped in duct tape. Officers cut open the bags to find a green leafy substance, later testing positive for marijuana.
Reddick was then reportedly placed under arrest and taken in for questioning. Upon entering the interview room, Reddick was patted down, where officers found a plastic bag containing nine white pills, later identified as Soma, a schedule four drug, and five small gray pills, later identified as Morphine, a schedule two drug.
The two bags containing the marijuana were field tested and weighed. One bundle weighed 20.5 pounds and the second bundle weighed 11.9 pounds, total weight being 32.4 pounds. Reddick was transported to the Texas County Detention Center where he is being charged with trafficking a controlled dangerous substance, possession of a schedule two and four drug, and after former felony conviction and is being held on a bond of $250,000.
Reddick, an Illinois resident, has a criminal history of one felony drug charge for conspiracy of meth out of Adams County State's Attorney from April of 2002, where he was sentenced to five years, six months were spent in the Department of Corrections.