Torres to Serve 5 Years
Joe Denoyer - October 13, 2017 9:43 pm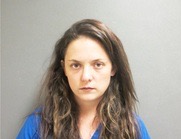 GUYMON, OK(Guymon Daily Herald)
After nearly two years of hearings following the arrest of former Tyrone Public Schools teacher Claire Louise Torres, a district judge has handed down the sentence for the teacher who faced multiple charges of second degree rape and indecent exposure.
The charges followed after an investigation through the Texas County Sheriff's Department, starting with a report from district administration on Dec. 15, 2015. The investigation led to a felony warrant against Torres on Jan. 21, 2016.
Torres remained in Liberal, Kansas before her arrest, and appeared in court with legal counsel before surrendering to Texas County authorities in February 2016. During that hearing, it was alleged that Torres engaged in a 2 1/2 year inappropriate relationship that began through messages on Snapchat. It was alleged she groomed her victim for several months before moving toward a sexual relationship with a 16-year-old boy.
Throughout court hearings, the court has allowed Torres to remain free on a $100,000 bond, with terms that she must not possess a passport or have any contact with any males under the age of 18.
On Friday, Torres appeared before the court for her final judgement and sentence hearing before the Texas County District Court.
Judge Parsley read a sentence of 15 years and a $2,000 fine each for counts one through five; counts six through 25 at 10 years, with costs only. Count one will be served. All counts suspended except five years. Credit is granted for time served, and Torres will be placed on Department of Corrections probation.
Torres was remanded to the custody of the Texas County Sheriff's Department after sentencing and will be transferred to an Oklahoma Department of Corrections facility.