Tornadoes Touch Down In Southwest Kansas
KSCB News - April 23, 2010 12:00 am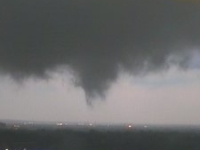 Some damage has been reported after tornadoes touched down in SW Kansas.
A tornado was reported in Kearny County, west of Lakin, before 5:00 p.m. Kearny County dispatchers said they've received reports of trees and power lines down, along with one vehicle overturned. There are also reports of baseball sized hail in the area.
A second tornado was reported on the ground near Shallow Water in Scott County around 6:30 p.m. Storm chasers reported from the Lane county town, where strong winds blew through as the tornado lifted. Scott County dispatchers said two grain bins were destroyed and a barn suffered extensive damage four miles south of Scott City.
Another tornado formed south of Lydia close to 7:00 p.m, was on the ground for over 10 minutes in Kearny county.