Topeka's Two Seventh Inning Runs Ends Redskin Baseball Season
Brock Kappelmann - May 18, 2022 6:45 am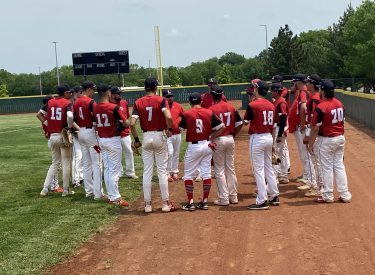 Very similar to a few of their losses this year, Liberal took an early lead and held on for most of the game only to see the lead slip away late.  That was again the case on Tuesday afternoon in a 6A regional at Panther Field in Derby as Liberal led 3-1 for much of the game only to see the Topeka Trojans score two in the seventh to shock the Redskins 4-3.  An RBI single to center scored two runs to end the game in walk off fashion.
Topeka scored a run in the first.  Liberal tied the game in the top of the second.  Brooks Kappelmann singled over the shortstop to lead off the inning.  Aidan Schwindt dropped a single to right.  Zayden Martinez hit a sharp single up the middle to tie the game at 1-1.  Liberal began the third with a Carlos Campos line drive single to center.  Izzy Rotolo was hit by a pitch.  Brooks Kappelmann walked.  Campos scored on a wild pitch for the 2-1 lead.  Aidan Schwindt walked.  Rotolo scored from third on a balk for the 3-1 lead.  Topeka scored a run in the fifth to make it 3-2.  Meanwhile the Redskin bats fell silent.  LHS did not have a hit after the fourth.  The first Topeka hitter struck out in the seventh raising hopes of two more outs and a tournament win.  But a single, then a single and an error in left field placed runners at 2nd and 3rd with one out.  Topeka's Ty Votaw's line drive to center ended the game.
Brooks Kappelmann pitched five innings allowing two runs on five hits.  He struck out six and walked five.  He reached the pitch limit after five.  Aidan Schwindt pitched a scoreless sixth but ran into trouble in the seventh.  Topeka out-hit Liberal 8-5.  Liberal struck out 12 times in the loss.  Both teams made one error.
Liberal finishes 9-12 and Topeka improved to 13-8.