Topeka Too Much for Liberal
Brock Kappelmann - March 4, 2022 9:15 pm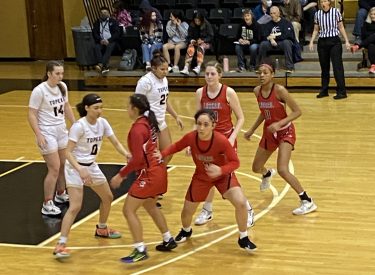 The Liberal Lady Redskins had some chances Friday night in Topeka.  But in the end, Topeka was just too much.  The Trojans took out Liberal 67-46 Friday night at the Dungeon in Topeka.
Topeka High jumped all over the Lady Redskins early.  They took a lead of 15-3 early before LHS rallied to trail 15-12 after one.  Liberal trailed just 19-16 early in the second quarter.  It was 34-21 Topeka at halftime.  The Lady Red roared out of the halftime locker room to the tune of  10-2 run to make it 36-31 with 4:18 to play in the third.  But Liberal left Topeka's Kiki Smith open on an inbound play and it was never closer than a nine point spread the rest of the night.  Topeka led 43-33 after three.  Topeka out scored LHS 24-13 in the fourth quarter.
Liberal had a rough shooting night in the Dungeon going 16-58 for 28 percent and 2-16 from three point range.  The Trojans shot 49 percent and were 5-14 from three.  LHS was 12-19 at the foul line and Topeka was 10-14.
Ashley Carrillo had 19 to lead Liberal.  Bree Horyna had nine points and 13 rebounds.  Topeka's Kiki Smith scored a season high 33 points.
Liberal loses in the sub state final for a second straight year.  LHS finishes 15-7 and Topeka is 20-2 and headed to state.