Top Teams Compete in Seward's Conestoga Classic
KSCB News - November 30, 2012 12:28 pm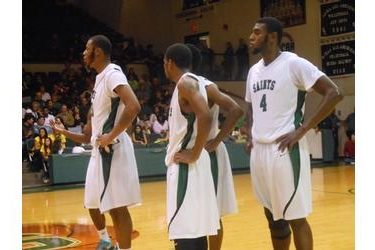 Make plans to come out to the Greenhouse this weekend as the Seward
County Saints host the 2012 Conestoga Classic. The classic will feature
four of the top teams from around the central region as Seward brings in
Northern Oklahoma-Enid, Northwest Kansas Tech, and Odessa to play in the
classic. Friday night at 8:00 the Saints will battle with the Odessa
Wranglers in a matchup of NJCAA heavyweights while on Saturday at 8:00
Seward will play Northwest Kansas Tech for the first time in school
history. Free tickets are available courtesy of our buyout sponsor
Conestoga at their Liberal office, as well as at Express Lane, Bisteca,
Spencer Brown's, Little Caesars, Subway, and Community Bank.
As always, if you can't make the games, you can watch them live on your
computer at scccsaints.com
<http://www.livesportsvideo.com/golive/goliveevents.asp?q=SewardCountyCo
mmunityCollege>
Also this weekend, the Seward County Lady Saints will be in Hutchinson
playing in the McDonald's Classic in the Sports Arena. They will play
both Friday and Saturday at 1:30 pm and their games can also be watched
live HERE <http://www.ihigh.com/hcc/broadcast_264490.html?silverlight=1>
.
Roy Allen