Top 10 KSCB Sports Stories
KSCB News - December 31, 2010 9:22 am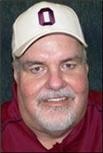 Top 10 Sports Stories
10. Turpin baseball and basketball teams both make it to state.
9. Forgan football advances to semifinals for second straight year
and goes 11-2.
8. LHS cross country finishes third in the state and wins WAC.
Jaime Minjarez led a balanced attack at 18th.
7. Seward dominates the spring. The Seward baseball and
softball teams won the Jayhawk West. The Lady Saints won
the region as well. SCCC women's tennis places 8th and the men
placed 13th in the country.
6. Lady Saints basketball wins the Jayhawk West and finishes 31-3.
Rachel Barnes set single game scoring record with 41 points and
16 rebounds in semifinal win over Cowley.
5. Hooker wins the state cross country title. Stan Kachel's boys won
the 2A title behind David Perez placing 3rd and Esteban Perez taking
5th.
4. LHS soccer finishes at state runner up for third time in school
history. They were 16-2-3 and won their 10th straight WAC title.
Isai Gutierrez was the area player of the year and helped the Redskins
score a school record 76 goals.
3. Meade wins the state football championship for the third time in
school history. The Buffs beat favored Pittsburg Colgan 20-14.
Jaden Friesen was first team all state in the Hutch News in all classes.
2. The Liberal Bee Jays won their fifth NBC World Series title over
the Seattle Studs 9-6. Paul Gonzalez was named NBC MVP after
a 38-14 BJ season.
1. Panhandle State head football coach Mike Wyatt led the Aggie
football team to their first winning season since 2004. The OPSU
community remains shocked by his death on December 5 after
an apparent heart attack.