Too Much Star Power for Bee Jays
Brock Kappelmann - August 9, 2016 7:16 am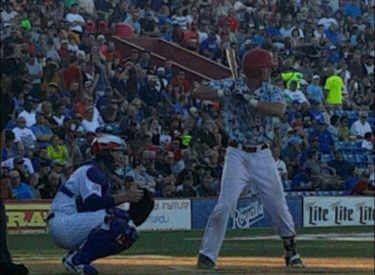 Even after a loss, the Liberal Bee Jay players were star struck.  From in game conversations to post game chats.  The Bee Jays took to social media after the game indicating what a great experience this was.  The experience was playing former Major League players, the Kansas Stars in the 82nd NBC World Series.  The Stars beat Liberal 8-3  ending the BJ's chances at winning the tournament and playing in the quarterfinals in Thursday.  The game was played in front of a packed Lawrence-Dumont Stadium.
The Bee Jays had the crowd buzzing early on.  Jakob Hernandez put up two scoreless innings to begin the game and Blake Brewster tripled to left scoring Marc Mumper and Kyle Knauth in the first.  The Stars scored three in the third when Adam LaRoche, a former Elkhart Duster, hit a two run homer to right.  An error allowed the Stars to score in the fourth.  They scored two more in the sixth as Brandon Inge and Barry Wesson singled and scored on a bases loaded walk to Ryan Langerhans and a Jack Wilson ground out.  Tim Hudson pinch hit a single to right and came in to play first in the eighth.  The Bee Jays scored in the eighth when Kendall RAdcliff tripled to right center and scored on a Cale O'Donnell ground out.  The Stars out hit the Bee Jays 12-4.
Liberal plays their final game against the Sterling Xpress Wednesday at 2 with the Dugout Show at 1:45 on 1270 and kscbnews.net.