Too Many Turnovers for Lady Saints
KSCB News - January 31, 2013 6:42 am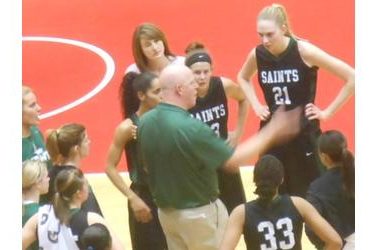 The Lady Saints committed 30 turnovers in a 64-36 blowout loss to Hutchinson in the Hutchinson Sports Arena Wednesday night. Number one ranked Hutch won the points off turnovers category 27-7. The Lady Dragons (22-0, 8-0) led 24-17 at halftime and then outscored the Lady Saints (14-7, 5-3) 40-19 in the second half.
Fabiana Monte led Seward with 11 points in a game in which the Lady Saints made just 31 percent of their shots.
The Lady Saints are now tied for fourth in the Jayhawk West.
The Lady Dragons win their 75th straight home game, Hutch has won 37 straight Jayhawk West games and has defeated Seward six straight times and in eight of the last nine.
Seward plays at Barton Saturday at 5:30 on B107.5 and kscbnews.net. The Lady Saints will be featured during the Green Line Thursday night at 6 p.m. at Billy's on Talkradio 1270.
Wed. Jan. 30
D1RV Cowley def Labette 77-37*
D2#11 Highland def Neosho County 65-59*

Butler def Dodge City 64-47
Independence def Fort Scott 56-41*
Cloud County def Barton 62-55*
D1#1 Hutchinson def Seward County 64-36*
D2RV Brown Mackie def Hesston 89-80**
Pratt def Colby 76-56*
D2#2 Johnson County def Allen 51-37*
Coffeyville def Kansas City KS 67-64*