Too Many Give Aways in Great Bend
KSCB News - February 2, 2013 8:07 am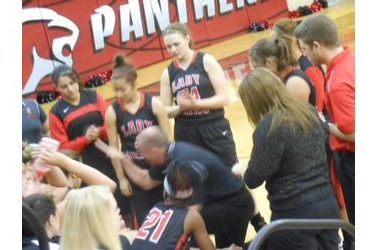 The Liberal Lady Redskins somehow led a game at halftime but lost by 32 Friday night. Great Bend (9-5, 3-1) rallied by LHS 73-41 in front of a big homecoming crowd in Panther Fieldhouse. Great Bend scored 51 second half points while LHS committed a mind boggling 39 turnovers in a 32 minute game.
Liberal led 11-10 after one quarter and led 20-15 in the first half and took a 25-22 lead into halftime in front of a stunned throng of Great Bend fans. But after shooting 19 percent in the first half, the Lady Panther made their second half layups. Great Bend's trapping full court press gave Liberal fits. Great Bend double teamed Liberal's Jai Chapman forcing others to bring the ball up the court. Chapman led LHS with 10.
The Lady Skins are 4-11 overall and 0-4 in the WAC. They have lost 18 straight WAC games. They play at Guymon Tuesday night at 6:30 on Talkradio 1270 and kscbnews.net.