Too Little Too Late for Redskins
KSCB News - September 25, 2010 12:00 am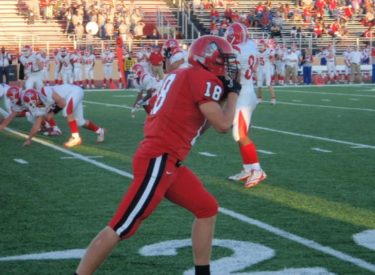 Dodge City built a 27-0 lead in the second quarter, saw Liberal rally to make it 27-20 in the third quarter, then tacked on two fourth quarter scores for a 41-20 win over Liberal at Redskin Field in front of a big crowd Friday night. Liberal falls to 2-2 overall and 0-2 in the WAC meaning they have lost eight consecutive WAC games. Dodge City is 4-0 after winning their WAC opener.
The Red Demons shredded the Redskin defense early taking a 27-0 lead with 4:20 to play in the first half. That's when Jade Cathey briefly took over the game. Cathey caught at 68 yard touchdown pass from Slader McVey with 4:08 to play in the half. Kenlee West intercepted a pass which would set up McVey to Cathey for 40 yards with the 6'5″ receiver going over two Red Demons to haul it in to make it 27-13 with three minutes to play after LHS missed the extra point. A 64 yard pass from McVey to a wide open Tyson Deaton gave the Skins a chance to score again at the end of the half, but when Slader McVey scrambled to the Dodge City 10, time ran out in the half with the Demons leading 27-13. A Justin McPhail fumble recovery set up a McVey pass to a high stepping Tyson Deaton for a 48 yard TD to make it 27-20 in the third quarter. McPhail and Cesar Ontiveros would combine to force a fumble which Jesus Esparza recovered giving Liberal all the momentum. But the Skins wouldn't be heard from again. Dodge tacked on two fourth quarter touchdowns including a nifty hook and lateral for a 63 yard touchdown.
Dodge beats Liberal for the fourth time in five tries. Liberal travels to 1-3 Garden City next week while the Demons host Great Bend.