Todd Ciochetto Named Lady Saint Coach
Brock Kappelmann - May 28, 2020 7:06 pm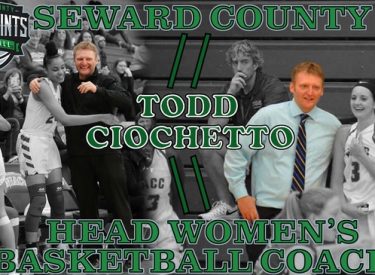 LIBERAL, Kan. – Seward County Community College Athletic Director Dan Artamenko announced today that Todd Ciochetto has been hired as the Head Coach for the Women's Basketball Program.
Coach Ciochetto has spent the last six seasons as the Head Coach for North Iowa Area Community College and has an overall record of 153-46. This past season Ciochetto led NIACC to a 32-1 record, Region XI Championship, and a number one seed at the NJCAA Division II national tournament. With this success, he was honored as the Division II National Coach of the Year by both the NJCAA and World Exposure Report.
The Trojans first hired Ciochetto in 2011 as the Assistant Women's Basketball coach and was promoted to Head Coach in 2014. Ciochetto has continuously led NIACC to the Region XI title game for the past six years and has won the region three times.
"First off I want to say thank you to NIACC and all of North Iowa for 9 great years." Ciochetto continued, "Seward County is one of the few jobs that excited me. The tradition, the support of the administration, staff, and community is second to none. I am humbled and excited to be a part of the liberal community and Seward County."
The Lady Saints have been to the National Tournament five out of the last six years and has claimed the Jayhawk West Conference regular-season title three out of the previous four years. The program has a deep history of success that includes the school's only NJCAA National Championship in 2002.
"Coach Ciochetto has been very successful in the NJCAA, winning multiple region titles and being named Coach of the Year by multiple entities." Seward County's Athletic Director Dan Artamenko continued, "Todd brings a great culture with a high level of achievement.  We are excited about the future with Todd and look forward to continued success for the Lady Saints."
Seward County Lady Saints will look to continue the program's success with a new leader at the helm in Coach Ciochetto.