Toby Wynn Steps Down at Emporia State
Brock Kappelmann - March 2, 2023 9:29 am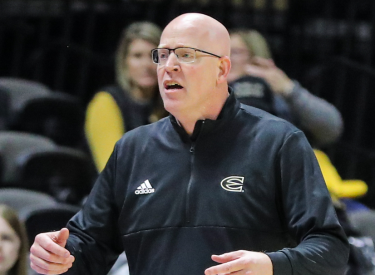 Emporia State Sports Information
March 2, 2023-Emporia State women's basketball coach Toby Wynn has announced that he is stepping down as the head coach of the Lady Hornets following their loss to Central Oklahoma in the First Round of MIAA Tournament.
"I really just want people to know that I have lived my dream of being a college basketball coach for 18 years and it's time for me to focus on my family and other ventures in life," said Wynn.
Wynn went 93-52 in his five years as the head coach of the Lady Hornets. He was the second coach to win at least 18 games and go to the NCAA Tournament in his first three years at Emporia State. The Booker, Texas native went 349-84 in 13 seasons at Seward CC and has gone 442-136 in his collegiate coaching career.
"We want to thank Coach Wynn for his service to Emporia State and Hornet Athletics," said Emporia State Athletic Director David Spafford. "In my short time here I have enjoyed working with Toby.  He is a professional and works hard to do what is best for the program and our student athletes.  I appreciate his discernment and his decision while wishing him and his family all the best".
In his first season, Coach Wynn lead the Lady Hornets to a 22-9 record and an appearance in the NCAA Tournament. His 22 regular season wins were the second most by a first-year coach in Lady Hornet history.
In 2019-20 he led the Lady Hornets to a 24-7 record while finishing as the MIAA Regular Season and Tournament Runners-Up. Emporia State advanced to the NCAA Tournament for the second straight season and 21st time in the last 23 years before the post season was canceled due to the COVID-19 pandemic. The Lady Hornets went 15-0 at home to complete the sixth undefeated home season in program history.
The next season the Lady Hornets went 18-7 playing an MIAA only regular season schedule. With only one senior on the team, Emporia State advanced to the NCAA Tournament for the third straight season and 22nd time in 24 years.
Emporia State went 15-14 last season, the 26th straight winning season, before finishing 14-15 this season.
"I am thankful to all the coaches, players, staff, donors, faculty, and community members who helped me and the program along the way," said Wynn. "We qualified for three NCAA Tournaments in five years along with making facility improvements that will have a lasting impact on the program."
In his five years with the Lady Hornets, his players have earned nine first-, second- or third-team All-MIAA honors including two defensive player of the year awards and the league's Most Valuable Player in 2021.
"I am forever grateful to Emporia State University and in particular Kent Weiser for giving me the opportunity to lead such a prestigious program," said Wynn. "I look forward to supporting the next coach that is hired here to lead the Lady Hornets and StingersUp."
A national search for the next Lady Hornet basketball coach will begin immediately.
Toby Wynn Year by Year
Year    Overall    MIAA
2018-19    22-9*    13-6
2019-20    24-7*    15-4
2020-21    18-7*    17-5
2021-22    15-14    10-12
2022-23    14-15    9-13
Totals    93-52    64-40
*NCAA Tournament Participant
ESU Coaching History
Coach                            Years    W-L    Pct.
Toby Wynn                 2018-23    93-52    .641
Jory Collins                2010-18    199-58    .774
Brandon Schneider    1998-10    306-72    .810
Cindy Stein                 1995-98    65-25    .722
Val Schierling              1981-95    212-182    .538
Debbie Jones              1976-81    89-43    .674
Linda Caruthers           1974-76    30-12    .714
Totals                         1974-    994-444    .692