Tinner Leads Seward Past Cloud
Brock Kappelmann - December 2, 2021 6:17 am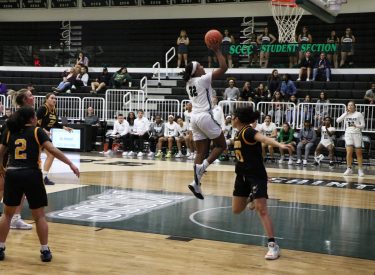 LIBERAL, Kan. – Seward County Community College picks up the home victory 90-80 over Cloud County Community College on Wednesday night. The Lady Saints improve to a 6-3 on the season and 4-1 in conference play. Seward County will host No. 25 Independence Community College in a battle of the top three in the KJCCC on Saturday, December 4th at 6 PM.
To start the game both teams struggled offensively as Seward County took the lead 5-4 after a D'Arrah Allen floater with 4:54 left in the quarter. The Lady Saints went into the 2nd quarter with a 15-14 lead after the Thunderbirds connected on a three at the buzzer. Seward County was able to get good shot opportunities but could not get the baskets to fall.
In the second quarter, the Thunderbirds claimed a 17-15 lead after a pair of free throws. With 5:53 left in the quarter, Cloud County kept their lead at 25-21 over the Lady Saints. Seward County responded with a 6-0 run to take the lead 29-25 over the Thunderbirds with 4:54 left in the quarter. Seward County closed out the quarter on a 19-6 run and took a 40-31 lead into halftime.
The Lady Saints came out of the break on a 6-2 run to extend their lead to 46-33 in the third quarter. Sierra Lynch knocked down a corner three to give Seward County a 52-43 lead with 5:49 remaining in the quarter. The Lady Saints took a 71-54 lead into the fourth quarter.
Seward County took their largest lead of the game 76-56 after a layup by Halima Salat with 8:33 left in the game. The Thunderbirds responded with a 13-2 run to cut the lead down to 78-69. The Lady Saints traded off baskets and free throws for the final four minutes of action as Seward County held on to a 90-80 victory.
Zayla Tinner had a career night with 35 points, three rebounds, five assists, and three block shots. Lynch added 16 points, and Zhane Thompson had 13 points in the win.
Seward County will face the No. 25 Pirates in the Greenhouse on Saturday, December 4th at 6 PM with Saints Shoot-around at 5:45 on 107.5.  Pizza Hut is the game sponsor.