Time for Skins to Get Out of the Garden
KSCB News - January 11, 2012 7:20 am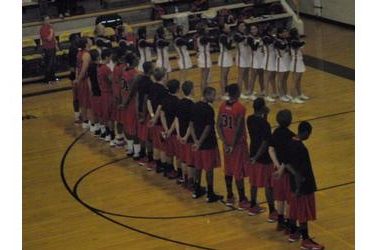 After rare wins at The Garden in Garden City in 2008 and 2009, Liberal loses their last three games in Garden City's old barn. Tuesday night in Liberal's last game in the building, the Buffaloes take the lead in the WAC with a 49-37 win over the visiting Redskins.
The Buffs move into their new gym at their new high school next year.
The 12 point spread at the end of the game was the biggest lead for the Buffaloes. GCHS led 13-10 after one quarter. LHS led briefly 18-17 in the second before the Buffs took a 26-20 lead into the locker room. Liberal cut Garden's lead to one (27-26) in the third quarter but trailed 35-26 at the end of three as the Redskin offense went stagnant.
After 20 turnovers in Hays, LHS cut their turnovers down to 13 but were out-rebounded in the game.
DeVondre Livingston scored 12 and Andre Jackson added 10. Garden's Jake Curran led the Buffs with 20. He is the son of LHS graduate Sam Curran.
Garden City leads the WAC at 2-1 and is 3-5 overall and LHS is 2-6 overall with four straight losses and 0-2 in the WAC.
The Skins host 3A state champion Scott City Friday night at 7:45 on Talkradio 1270 and kscbnews.net.
The Redskins will be featured during the Thursday night (5:30) Rowdy Crowd on Talkradio 1270 and kscbnews.net live from Billy's.