Tigers Tame Redskins in Season Ending Loss
KSCB News - March 6, 2015 7:21 am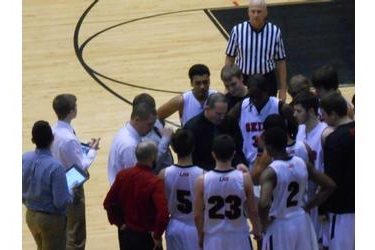 It was a discouraging ending to an encouraging season. The slumping Goddard Eisenhower Tigers, losers of five straght and seven of their last eight, handled the Liberal Redskins 55-40 Thursday night in a 5A sub state game in the Big House. Apparently momentum means nothing because the Redskins had won six of their last seven.
The Tigers came out hot making their first three and four of their first five three point shots and led 8-0 and 10-2 early before leading 17-7 at the end of the first quarter and 30-18 at the half. Liberal was never in the game. The Tigers dominated Liberal's front line on the class building the lead to 43-26 at the end of three. The lead ballooned to as many as 19 (45-26).
Kylan Thomas scored 13 and Mershek Wiltshire dropped in 10. Liberal didn't shoot straight going 2-19 from three point range and 8-16 at the foul line.
The loss comes at the end of a season in which Liberal finishes 13-8 with their first winning record since 2010. Eisenhower is 10-11.