Tigers Tame Redskins
KSCB News - December 19, 2012 7:18 am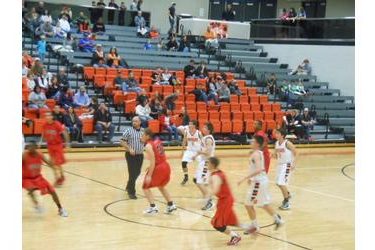 Liberal head coach Drew Gruver summed it up during postgame saying the first half nearly put him to sleep. Ulysses played the game at their pace in a 43-38 win over the Redskins in Ulysses Tuesday night. LHS is 2-5 at Christmas break.
The Redskins suffered through another abysmal night at the foul line going 6-20. Liberal forced 17 Ulysses turnovers, but just couldn't make shots.
The Tigers led this first half snoozer 8-4 after one quarter and 16-13 at halftime. Ulysses led 29-26 after three.
Nathan Medina scored 13 for the 3-3 Tigers while Levi Degollado added 10. Liberal's J.J. Lewis scored 12 but was 4-11 at the line. Trenton Hammond scored 10 but was 2-5 at the foul line.
Liberal hosts 5-0 Hays January 4 at the Big House.