Tide Turns Quickly for Skins in Season Ending Loss
Brock Kappelmann - October 29, 2021 11:07 pm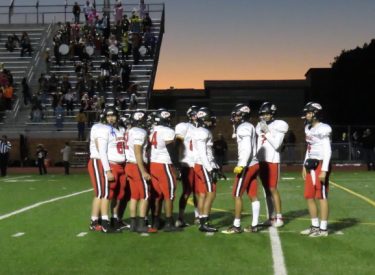 Liberal's season unraveled in a reckless fury Friday night in Salina.  The Salina Central Mustangs took down the Liberal Redskins 42-10 Friday night at Salina Stadium.  But the game went from maybe a 14-9 Salina Central lead at half with momentum on the side of the Skins, to a 28-2 debacle in 57 dizzying seconds.
Playing each other for the first time in 19 years, Salina Central got the ball first and scored on two plays.  Salina Central school record holder Parker Kavanaugh found his top target Logan Losey for a 36 yard touchdown strike at the 11:21 mark.  Liberal threw their first of three interceptions. However,   the Redskins rose up with a 4th and goal stop as Zayden Martinez tipped a pass incomplete at the 6:01 mark of the first quarter.  A Kavanagh one yard run with 57 seconds left in the first quarter made it 14-0 after the PAT.  Liberal's Easton Zapien recovered a fumble but Salina Central's Jaxon Kolzow intercepted a pass.  Liberal pinned the Mustangs deep and Logan Miller got the Redskins on the board with safety to make it 14-2 with 7:48 to go.  The Redskins then used a balanced time consuming drive which ended with an Avery Richardson interception and 100 yard return the other way for a touchdown at the 1:21 mark.  Central then recovered their own squib kick up the middle.  That led to a Kavanagh two yard touchdown run with 24 seconds remaining in the half. It was 28-2 at halftime.
Micah Moore's one yard touchdown run with 24 seconds left in the third quarter made it 35-2 .  Kenyon McMillan's TD run at the 9:22 mark made it 42-2 with 9:22 to play.  Brooks Kappelmann hooked up with Zayden Martinez for 48 yards leading to Trystian Juarez's and eight yard score with 2:15 to play.  Juarez scored on the two point conversion.
It's Liberal's 14th straight playoff loss.  The Redskins finish 4-5.  Since winning the 1994 state championship game over Salina Central 40-0, LHS has dropped for in a row to the Mustangs.  Central is 7-2.