Thunderstorm Watch Posted for Southwest Kansas Friday
KSCB News - May 24, 2013 3:52 pm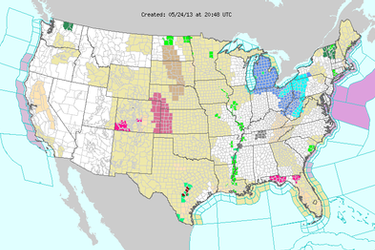 URGENT – IMMEDIATE BROADCAST REQUESTED
SEVERE THUNDERSTORM WATCH NUMBER 215
NWS STORM PREDICTION CENTER NORMAN OK
240 PM MDT FRI MAY 24 2013
THE NWS STORM PREDICTION CENTER HAS ISSUED A
* SEVERE THUNDERSTORM WATCH FOR PORTIONS OF
EASTERN COLORADO
WESTERN KANSAS
SOUTHWEST NEBRASKA AND THE SOUTHERN PANHANDLE
* EFFECTIVE THIS FRIDAY AFTERNOON AND EVENING FROM 240 PM UNTIL
1000 PM MDT.
* PRIMARY THREATS INCLUDE…
SEVERAL LARGE HAIL EVENTS WITH A FEW VERY LARGE HAIL EVENTS TO 2
INCHES IN DIAMETER POSSIBLE
SEVERAL DAMAGING WIND GUSTS TO 70 MPH POSSIBLE
A FEW TORNADOES POSSIBLE
THE SEVERE THUNDERSTORM WATCH AREA IS APPROXIMATELY ALONG AND 65
STATUTE MILES EAST AND WEST OF A LINE FROM 5 MILES WEST SOUTHWEST
OF LIBERAL KANSAS TO 40 MILES NORTH NORTHEAST OF SIDNEY NEBRASKA.
FOR A COMPLETE DEPICTION OF THE WATCH SEE THE ASSOCIATED WATCH
OUTLINE UPDATE (WOUS64 KWNS WOU5).
PRECAUTIONARY/PREPAREDNESS ACTIONS…
REMEMBER…A SEVERE THUNDERSTORM WATCH MEANS CONDITIONS ARE
FAVORABLE FOR SEVERE THUNDERSTORMS IN AND CLOSE TO THE WATCH
AREA. PERSONS IN THESE AREAS SHOULD BE ON THE LOOKOUT FOR
THREATENING WEATHER CONDITIONS AND LISTEN FOR LATER STATEMENTS
AND POSSIBLE WARNINGS. SEVERE THUNDERSTORMS CAN AND OCCASIONALLY
DO PRODUCE TORNADOES.
&&
DISCUSSION…WIDELY SCATTERED TSTMS ARE EXPECTED TO DEVELOP THIS
AFTERNOON AND EVENING FROM THE VICINITY OF A SURFACE LOW OVER NERN
CO SWD ALONG A LEE TROUGH/DRYLINE. AMBIENT ENVIRONMENT IS
CHARACTERIZED BY STEEP LAPSE RATES…MLCAPE OF 1000-2000 J/KG…AND
VERTICALLY VEERING WIND PROFILES WITH STEADILY STRENGTHENING
DEEP-LAYER SHEAR. AS SUCH…THE POTENTIAL WILL EXIST FOR SUPERCELLS
AS THE INITIAL STORM MODE WITH A RISK FOR LARGE HAIL AND PERHAPS A
TORNADO. UPSCALE GROWTH OF STORMS INTO CLUSTERS IS ANTICIPATED
LATER THIS EVENING WITH AN INCREASED THREAT FOR DAMAGING WINDS.
AVIATION…A FEW SEVERE THUNDERSTORMS WITH HAIL SURFACE AND ALOFT
TO 2 INCHES. EXTREME TURBULENCE AND SURFACE WIND GUSTS TO 60
KNOTS. A FEW CUMULONIMBI WITH MAXIMUM TOPS TO 500. MEAN STORM
MOTION VECTOR 23020.
IN KANSAS THIS WATCH INCLUDES 13 COUNTIES
IN SOUTHWEST KANSAS
FINNEY GRANT GRAY
HAMILTON HASKELL KEARNY
MEADE MORTON SEWARD
STANTON STEVENS
IN WEST CENTRAL KANSAS
LANE SCOTT
THIS INCLUDES THE CITIES OF…CIMARRON…DEERFIELD…DIGHTON…
ELKHART…FOWLER…GARDEN CITY…HUGOTON…JOHNSON CITY…
KALVESTA…KISMET…LAKIN…LIBERAL…MEADE…MONTEZUMA…
MOSCOW…RICHFIELD…SATANTA…SCOTT CITY…SUBLETTE…
SYRACUSE AND ULYSSES.
$$