Three Saints Sign at Four Year Institutions
KSCB News - May 4, 2016 2:18 pm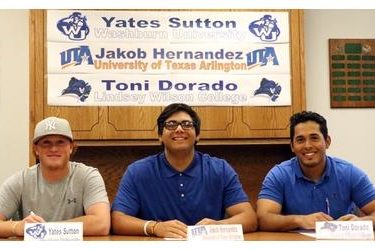 A trio of Seward County Saints signed on the dotted line together in the All-American Room at Seward County as Jakob Hernandez made his commitment to Texas-Arlington official, Yates Sutton inked at Washburn, and Antonio Dorado signed with Lindsey Wilson College.
Lefty Jakob Hernandez made his decision to join former Saint Darin Thomas and the UTA Mavericks next season at the NCAA Division I level. Hernandez has been nothing short of spectacular for the Saints this season, winning the Jayhawk Conference pitching triple crown this year, leading the league with a 9 wins, a 2.08 ERA, and 149 strikeouts. His strikeout total has already blown past Seward's County's all-time single season mark of 119 and currently leads all levels of college baseball. He has 10 or more strikeouts in nine different games this season including a Jayhawk Conference record 19 strikeout game in a win over Pratt. Hernandez has dealt complete games in 9 of his 11 starts on the year and has pitched shutouts in four of those outings.
Hernandez will join a number of his former Liberal BeeJay teammates with the Mavs next season. UTA is currently 23-22 on the year and 9-12 in Sun Belt play.
Right handed pitcher Yates Sutton will stay in the Sunflower State for the next two seasons, signing with NCAA Division II member Washburn University Tuesday. Sutton, a Hugoton native, has tossed 12 2/3 innings for the Saints this season, posting a 10.66 ERA. He is 2-1 in his nine appearances and is averaging 5.68 strikeouts per nine on the year.
Sutton has put together a fine campaign in 2016, sitting at 31-15 overall on the season and 26-10 in MIAA action, good for 2nd place with three games left to go in the conference schedule.
The Saints leading hitter this season, Antonio Dorado, signed with NAIA powerhouse Lindsey Wilson College in Kentucky Tuesday. Dorado has had a breakout sophomore season for the Saints, leading the team with a .394 batting average while also pacing the squad with 17 doubles and 45 runs driven home. Dorado's six home runs rank second on the squad, as does his .641 slugging percentage. Dorado's hottest stretch of the season came in mid-March when he collected three or more hits in six straight games, clubbing at a clip of .704 during the stretch while driving in 12 runs.
Dorado will join a tradition rich program at Lindsey Wilson as the Blue Raiders have won 40 or more games in three of the past four seasons and are well on their way to another 40 win campaign in 2016 with a 35-20 record thus far this season.
Hernandez on his signing at UTA "I know a lot of the guys there and they have had nothing but good things to say about it. I am looking forward to playing for Coach Thomas and representing the Mavs."
Sutton on his signing at Washburn "The education at Washburn is top notch, so I am excited about that. I know a lot of people won't believe this, but I love Kansas, I am looking forward to staying here at least two more years."
Dorado on his signing at Lindsey Wilson "I want to go there and continue to help them win. I don't know much about Kentucky, but it seems like a nice place and I know that the coaches know what they are doing just by looking at their record over the past five years."
Seward Head Coach Galen McSpadden on Hernandez "Darin (Thomas) is getting a guy who misses a whole lot of bats and that is something that you can't teach. His numbers speak for themselves."
McSpadden on Sutton "Yates doesn't say much, but he shows up to practice every day and works hard and does everything we ask him to do."
McSpadden on Dorado "Toni has been with us for three years now and has continued to show improvement each year. He has turned himself into a good player and hopefully he can contribute for a good team there at Lindsey Wilson."
Roy Allen