Three Saints Basketball Players Sign at NCAA Schools
Brock Kappelmann - June 19, 2023 6:53 pm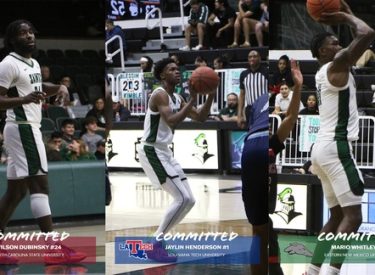 LIBERAL, Kan. – The trio of Wilson Dubinsky, Jaylin Henderson and Mario Whitley have signed with NCAA universities. Wilson Dubinsky is heading to South Carolina State University, Jaylin Henderson has signed with Louisiana Tech University and Mario Whitley has signed with Eastern New Mexico University.
Wilson Dubinsky, the all-time leader in made three pointers (161) for Seward County is heading to the East coast as he has signed with South Carolina State University (SCSU) in Orangeburg, SC. Dubinsky finish his two-year Saints career with 11.2 points, 2.3 rebounds, and 1.4 assists per contest. Dubinsky helped lead the Saints to historic three-point numbers throughout his time in Liberal ranking in the top 10 for team threes in a season during the 21-22 season. Dubinsky had his best career game against NWKT back on December 13, 2021, with 9 made threes finishing with 27 points. Dubsinsky is now headed to an NCAA Division I university in SCSU.
Jaylin Henderson, a starting guard for the Saints the past two seasons is headed to Ruston, Louisiana and will attend Louisiana Tech University, an NCAA Division I university, in the Fall. Jaylin spent a total of three seasons in Liberal, KS and over his whole career averaged 10.1 points, 2.7 rebounds and 1.7 assists per game. This past season was Jaylin's best where he averaged 14.5 points, 3.9 rebounds and 2.8 assists per game. Jaylin scored 20 or more points 9 times during the 22-23 season and scored in double digits 21 of their 31 contests with his best performance coming against Dodge City CC back on January 28, 2023, where he scored 27.
Mario Whitley, a force in the paint, was the Saints' starting forward for the 2022-2023 season and put up 14.5 points, 7 rebounds, 1.2 assists and 1 steal per contest. Whitley was dynamite from midrange and shot at 48.8 percent clip throughout the season and paired that with 77.6 percent from the line. Whitley was the best free throw shooter with that 77.6 percent and tied at the top with points per game with Jaylin Henderson. Whitley averaged only 26.5 minutes per contest and was able to save his best game for last when the Saints took on Pratt in the Region VI tournament, a game in which Whitley scored 24 points and grabbed 6 rebounds.
We are excited to watch these Saints finish their collegiate academic and athletic careers at the NCAA level and we wish Wilson, Jaylin and Mario luck throughout their journey!