Three Liberal Residents Escaped Injury Friday Night
KSCB News - January 11, 2016 8:04 am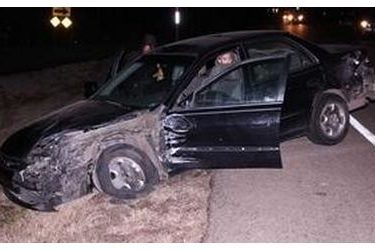 Three Liberal residents escaped injury Friday night after side swiping a semi west of Pratt on U.S. 54 at the entrance to the Evergreen Motel and Rick s Restaurant.
The accident occurred when a west bound 2001 Honda, driven by 52-year-old Evangelene Mendoza of Liberal pulled to the north shoulder then attempted to make a left turn from the shoulder into the entrance to the Evergreen Motel and Rick s Restaurant about a mile west of Pratt.
The car sideswiped the cab of a westbound 2003 Freightliner semi driven by 52-year-old Martin Arenivas of Liberal. The Honda hit the front bumper and the rim of the back duals on the semi cab. The force of the collision tore the driver side front fender off the Honda and did extensive damage to the wheel assembly. The driver side rear fender also sustained damage. The car came to a stop upright facing north half on the shoulder and half in the ditch on the north side of the highway.
The semi came to a stop on the north shoulder several feet west of the car. The front fender was torn off the semi and bent the rim on the duals causing the tire to go flat.
Mendoza and her passengers Caesar Mendez, 49 of Liberal and 4-year-old Josiah Romero also of Liberal were not injured in the accident. Arenivas was also not injured.
The accident was reported just before 10 p.m.