Three Legend Take their Place in Seward Hall of Fame
KSCB News - April 18, 2015 7:14 am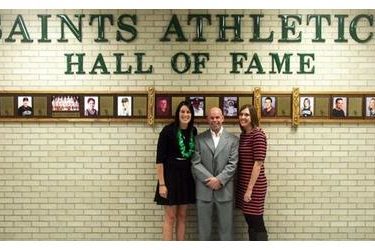 It was a night to celebrate in the Greenhouse on Friday as three of the greatest Seward County Saints and Lady Saints to ever put on a uniform were inducted into the Saints Athletics Hall of Fame. The top two scorers and rebounders in Lady Saints Basketball history, Tegan Cunningham and Jamie Talbert, joined the leading hitter in Saints baseball history, Tim Forkner, as the Class of 2015.
Tegan Cunningham, a Lady Saint from 2006-2008 and part of Seward's 'Magnificent Seven' National Tournament Team, made the long trip to Liberal from Australia for Friday's event. Cunningham is one of just two Lady Saints in school history to receive NJCAA All-American honors in both seasons at Seward County. She was a two time Jayhawk West Most Valuable Player award winner and was named the NJCAA National Player of the Week five times during her two seasons as a Lady Saint. She is the all-time leader in career points scored with 1,368 and the second leading rebounder in school history with 636. She led Seward County to a 59-11 record in her two seasons in Liberal including a 36-2 campaign in 2006-07 in which the Lady Saints won the Jayhawk West and Region VI Championships before finishing 3rd at the NJCAA National Tournament. Cunningham went on to become an All-Big 12 performer at Oklahoma State University and is currently playing professionally in the WNBL in Australia.
Cunningham thanked Head Coach Toby Wynn for being tough on her for her two years at Seward and joked that the first thing that he wanted to do when he got her back to Liberal was sit down and break down game film from the '07 National Tournament. Cunningham also stressed her appreciation for her teammates at Seward and was thrilled to have four of them join her in the Greenhouse Friday night.
Tim Forkner, who played for the Saints in the early 90's is one of the players whom Saints Baseball Coach Galen McSpadden said was of vital importance in helping turn the program into the dynasty it has become 25 years later. Forker was the second All-American in the history of the Seward County baseball program and was the first under McSpadden. As a freshman he won the NJCAA National Batting Championship with a .512 average and was named the Jayhawk West Freshman of the Year. As a sophomore he was the Jayhawk West Most Valuable Player and was a 1st Team NJCAA All-American. His .499 career batting average remains the best in school history, while his 169 hits and 81 walks rank second. He is in the top 10 in school history in six different major career categories. Forkner was a 14th round Major League Baseball Draft Pick by the Houston Astros and played five seasons in the Astros organization, hitting nearly .300 in his minor league career.
A soft spoken Forkner thanked McSpadden for giving him the chance to play college baseball. He also urged the Seward student-athletes who were all in attendance to work hard and trust in their coaches and take advantage of the opportunity that Seward County is giving them.
From little Elkhart, Kansas to a college basketball start, Jamie Talbert became just the second 1st Team NJCAA All-American in Lady Saints Basketball history in 2000. She is second leading scorer in program history with 1,274 points and ranks third all-time in rebounding with 620. Talbert made 62% of her shots from the field during her two year career, by far the highest shooting percentage in school history. As a freshman she was picked 2nd Team All-Conference and 2nd Team All-Region and was honored in the postseason with All-Region VI Tournament Team as well as NJCAA National Tournament All-Tournament Team. As a sophomore she was the Jayhawk West Most Valuable Player and was a 1st Team NJCAA All-American when she scored a school record 805 points throughout the season. Talbert led the Lady Saints to their first ever NJCAA National Tournament in 1999 and led Seward to a 67-5 record in her two seasons in Liberal. Following her playing career at Seward she played two seasons at the University of Oklahoma where she led the Sooners to an NCAA National Championship game appearance in 2002.
Talbert told Friday's crowd of over 300 that of all the venues that she had played at over her career at Seward and Oklahoma, that the Lady Saints fans still make the Greenhouse one of the best places to play. She also made it a point to thank her former teammates, saying that she could have never been the player that she was without them always putting her in spots to succeed.
The Saints Athletics Hall of Fame Class of 2015 is its fourth, joining a group that includes a pair of NJCAA National Players of the Year in Kim Ortega and Cory Patton, the Lady Saints 2002 National Championship Basketball Team, as well as three NJCAA Hall of Fame Coaches in Galen McSpadden, Jim Littell, and Pat Stangle. Also in the Saints hall are longtime supporters Brent Gould and Charles Brownlee and the Saints all-time leading scorer on the basketball court Tony Slaughter.
Roy Allen