Three Lady Saints Basketball Players Sign
Brock Kappelmann - May 6, 2019 4:26 pm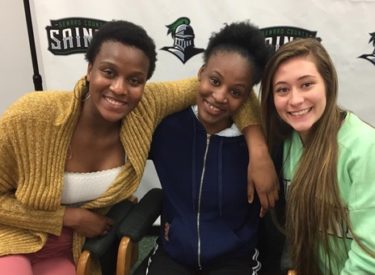 LIBERAL, Kan. – Lady Saints basketball players Silvia Veloso, Carla Covane and Lexi Hernandez will be continuing their basketball careers at four-year institutions in the fall. Covane and Veloso are heading to the University of the Cumberlands in Kentucky while Hernandez is going to Mid-American Christian University in Oklahoma.
Veloso had a stellar sophomore season and won almost every award possible. The 5-foot-7 guard from Maputo, Mozambique was named NJCAA First Team All-American, WBCA All-American, Region VI First Team, Jayhawk West Player of the Year, Defensive Player of the Year and First Team All-Conference. She averaged 13.6 points, 3.6 assists and 3.6 steals this season.
Covane was named Region VI Second Team and First Team All-Conference. The 6-3 center from Maputo, Mozambique averaged 12.1 points and 8.8 rebounds this past season.
Veloso and Covane will play with a Patriots squad, who went 1-13 in conference play and 14-17 overall this past season.
Lexi Hernandez was named Second Team All-Conference. The 5-6 guard from Canyon, Texas led the team with 75 three-pointers and 132 for her career, good for fifth all-time in the Seward record books. She averaged 13.2 points, 3.2 assists and 1.7 steals this season.
Hernandez will join a MACU team which went 25-9 overall and repeated as National Christian College Athletic Association champions this past season.