Three Arrested In Guymon For Robbery
KSCB News - January 31, 2012 8:27 am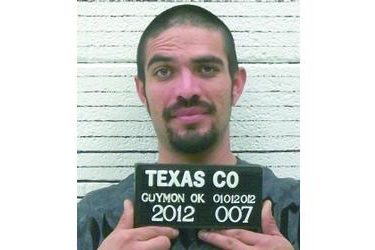 The Texas County Sheriff's Department has arrested three suspects in an armed robbery investigation.
Christian Maristin Figueroa, Julie Yvonne Esquibel-Welch and Steven Michael Welch are each charged with three counts of Conjoint Robbery and one count of Conspiracy to Commit a Conjoint Robbery, all felony offenses.
, Julie Welch and Figueroa are currently being held in the Texas County Jail. Bond has been set for Julie Welch at $40,000 and for Figueroa at $35,000.
Steven Welch was also arrested and is out on a $35,000 bond.
Texas County Sherriff Rick Caddell reported, "We've done an extensive investigation and feel comfortable we have all the suspects."
According to the Affidavit of Probable Cause obtained from the Texas County District Court, the trio allegedly were drinking the night of Dec. 30, 2011, when a conversation arose between husband and wife, Steven and Julie Welch, regarding the couple's financial difficulties. The three suspects then allegedly devised a plan to rob someone.
At approximately 7:30 p.m., it is alleged, Julie Welch approached three men who had just cashed checks at Mr. Payroll Check-cashing inside of Wes-T-Go Convenience Store. The men said Julie Welch asked them for a ride to her house, in broken Spanish, pointing toward Memorial Road.
The driver told her no at first, but she insisted she was cold and didn't want to walk, even offering them drugs or money to take her.
The driver reluctantly agreed and drove toward Memorial Road, when a red car passed and stopped and Julie Welch advised it was her husband.
According to the victim's statement, a man, which was later identified as Figueroa, stepped out of the red car with a gun, ordered the driver to turn off his car and hand him the keys and said, "Give me your money or I will kill you."
Allegedly, Figueroa then took the driver's money, while Julie Welch demanded money from the other two men in the vehicle. Figueroa put the victim's keys on top of the vehicle and ordered them not to leave for 10 minutes. Figueroa and Julie Welch both left in the red car, which is registered to Julie's husband, Steven Welch.
Eyewitnesses and surveillance video at Wes-T-Go identified and placed Julie Welch at Wes-T-Go before the robbery and when questioned by Deputies, Figueroa implied Steven Welch was in fact involved with the planning of the robbery, was the driver of the red car involved and went to Walmart with Julie Welch and Figueroa to purchase beer, after the robbery allegedly happened, with some of the stolen money.
Walmart surveillance video identified and showed Julie and Steven Welch and Figueroa arriving together at Walmart in the red car, after the time of the robbery, and purchasing beer before leaving the store together.
The total amount of money stolen from the victims was $2,288.