Thompson's Buzzer Beater Completes Lady Saint Rally
Brock Kappelmann - January 27, 2022 6:40 am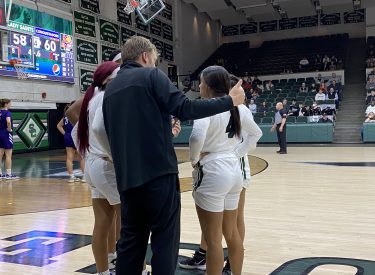 She didn't think it was going in.  Seward's Zhane Thompson bombed a high arching left wing three pointer with the score tied 60-60.  Both teams, coaches, officials, and fans were seemingly frozen in time watching Thompson's air borne heave.  The shot was perfect and lifted the Seward Lady Saints to a 63-60 win over Dodge City Wednesday night in the Green House.  It was Seward's only lead of the night and competed a comeback in a game in which SCCC trailed by 24.
Dodge City jumped all over Seward early.  The Lady Conqs led the Lady Saints 21-4 after one quarter and 28-4 in the second quarter.  DC3 led 36-14 and 41-18 before the teams went into halftime with the purple clad players leading 41-24.  The Lady Saints cut the lead to 10 at 49-39 but the Lady Conqs led 54-39 after three.  Seward cut the lead to 54-45 with seven minutes to play.  Halima Salat's steal and pass to Zhane Thompson for a three pointer made it 54-48 DCCC.  Seward got to within 57-53 with 2:37 to play  before Dodge City reclaimed a six point lead at 59-53.  Seward cut it to three at 59-56 with 1:39 to go.  D'Arrah Allen's free throws brought SCCC to within one at 59-58.  Allen's free throws tied the score at 60-60 with :46.6 seconds remaining.  Thompson's three swished home with .8 seconds left.
Seward won despite shooting 27 percent and was 13-49 from three point range against Dodge City's zone.  Seward committed 19 turnovers and Dodge had 23 turnovers.  Zhane Thompson scored 17 and D'Arrah Allen had 17 and was 10-13 at the free throw line.  Halima Salat had 15.
Seward won their 31st consecutive game over Dodge City dating back to 2006.  Seward also avoided losing their first home game to Dodge City since 1992.  Seward wins their fifth straight and it 15-6 overall and 11-4 in the Jayhawk.  Dodge City is 11-8 overall and 6-7 in the Jayhawk.  Seward plays at Cloud Saturday afternoon at 2 in Concordia.  Saints Shoot-around at 1:45 on 107.5 and the KSCB and The Legend App.  The Lady Saints will be featured Thursday night at 6 on the Southern Pioneer Electric Green Line Show at Billy's Ayr Lanes.  The show airs on 1270, 92.3, and the KSCB and The Legend App.