Third Ranked Mustangs Cruise in Cimarron
KSCB News - September 22, 2010 12:00 am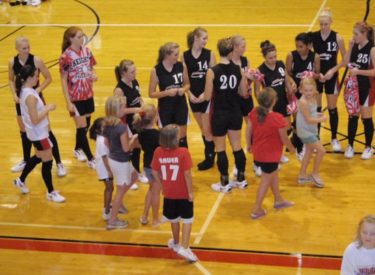 Southwestern Heights Volleyball Scores
Cimarron Quad 9/21/10
Varsity:
SWH over Cimarron 25-16, 25-22
SWH over Meade 25-14, 25-16
JV:
Cimarron over SWH 25-17, 25-19
SWH over Meade 20-25, 25-11, 15-10
Stat Leaders/Coach Julie Tucker ??s comments:
Heidi Brown led the team in kills with 7 against Cimarron and 9 against Meade for a total of 16.
Deni Jacobs was close behind with 6 against Cimarron and 8 against Meade for a total of 14.
Whitney Garinger added 5 kills against Cimarron and 2 against Meade.
Morgan Eakes led in aces with 5 total. She also did a great job of getting the sets to our hitters. Marissa Angell was great defensively. Rachel Stout, Rebi Jacobs, and Jessica Baldwin provided strong blocking for our front row defense.
We are in action again on Thursday at Scott City against them and Cimarron.