Third Quarter Collapse Costly to Redskins
KSCB News - January 10, 2015 7:27 am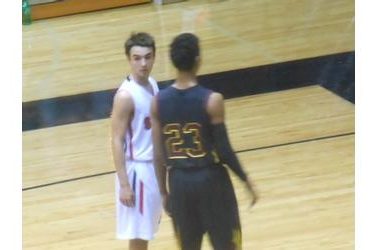 Hays outscored Liberal 17-6 in the third quarter of at Western Athletic Conference opening game in the Big House Friday night. The #5 Indians of 4A Division 1 won 58-49 to make it five straight over LHS. The loss snaps Liberal's five game winning streak. The Redskins were banged up playing without injured starter Kylan Thomas while Cade Hinkle played with an ailing back.
Liberal came out fired up jumping to leads of 9-0 and 12-2 early. The Redskins led 18-15 after one quarter and 30-29 at halftime after Mershek Wiltshire beat the buzzer with a three pointer. Liberal collapsed to begin the second half as the Indians led 46-36 after three and began the second half on a 21-9 run to lead 51-39. Liberal shot just 32 percent for the game.
Deladris Green scored 15 while Tim Fitzgerald added 12. Hays point guard Isiah Nunnery led them with 18 and Brady Werth scored 17.
Hays is 6-1 and 1-0 in the WAC while LHS is 5-2 and 0-1 in the WAC. The Redskins host the Garden City Buffaloes Tuesday at about 7:45 on 1270 and kscbnews.net.