The Right 'PICC'
KSCB News - May 11, 2011 9:11 am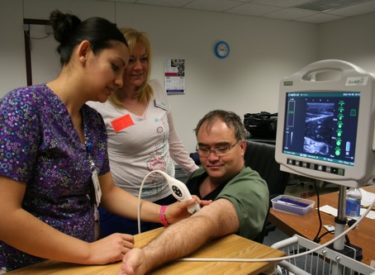 In the quest to ensure patients have the best possible care; Southwest Medical Center has added equipment that will enhance services for our patients. The Site Rite Vision is an ultrasound device that will allow a nurse from our newly developed "PICC Team" to insert PICC lines in patients. At this time, the PICC Team consists of three RNs: Mike Allaman, Betty Arroyo, and Tammy Hedrick.
PICC is an acronym for peripherally inserted central catheter.
"A PICC is a long, slender, flexible tube that is inserted into a peripheral vein, typically in the arm, and advanced until the catheter tip reaches a large vein in the chest just above the heart, called the superior vena cava" House Coordinator Mike Allaman explained.
There are benefits for using this type of equipment for PICC line procedures.
"There will be far less pain and trauma to the vessels," Allaman said. "This equipment allows us to access the vein using real time visualization. It allows us to identify the size of vein on our patients prior to insertion, so we know the quality of the vein we will be accessing."
There are other possible uses for the machine as well. The surgeons could also utilize the Site Rite Vision for placement of implanted infusion devices such as a port-a-cath, as well as during breast biopsies.
"PICCs are frequently used to obtain central venous access for patients in acute care, home care and skilled nursing care," explained SWMC ER Nurse Manager Tammy Hedrick. "Since complication risks are less with PICC lines, it is preferred over other forms of central venous catheters; however, a PICC is not appropriate for all patients."
A PICC line may be requested for a variety of treatment options which include some of the following:
· Prolonged IV antibiotic treatment (inpatient, outpatient, or through home health care)
· IV access when peripheral IV attempts have been unsuccessful
· Multiple accesses needs (multiple medications and fluids infusing at the same time)
· TPN Nutrition
· Chemotherapy
· Infusion of Blood and Blood Products
SWMC's new equipment, the Site Rite Vision Ultrasound, arrived April 22. According to Allaman, since this added service began, they have completed several PICC lines utilizing this procedure.
Hedrick said the feedback from patients thus far has been positive.
"The two patients that I visited with about this absolutely loved it," she said, "They just had the one stick, received antibiotics and lab work for two weeks as outpatients, and avoided any further sticks. Because peripheral IV sites must be changed at least every 72 hours, without the PICC line, these patients would have faced at least five different IV sticks and a few lab draws. PICC lines can remain in, with weekly dressing changes and maintenance, for up to one year if needed."
A representative from Bard Vascular Access, Clinical Nurse Educator and RN, Cheryl Gordon, was at Southwest Medical Center April 4-8 to train the three SWMC Registered Nurses on the use of a new ultrasound machine for PICC line placement.