The Moore the Merrier for Liberal
Brock Kappelmann - June 24, 2020 10:19 pm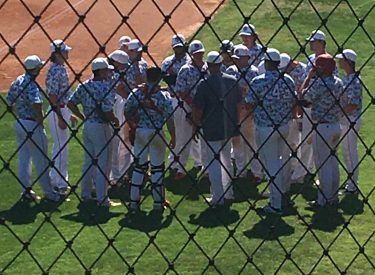 The Liberal Bee Jays won their first two games of a four game two day road trip Wednesday. Liberal defeated Oklahoma City Team Charlotte 5-3 and Oklahoma City Team Elite 19-1 at Randall University in Moore.
The Bee Jays were sloppy in the 3:30 game vs Sonny Galloway's Team Charlotte.  They won despite five errors.  Liberal scored three in the first. Caeden Trenkle roped a triple to right center in the first pitch of the game.  Wilson Ehrhardt's pop up was misplayed into a single.  Wyatt Grant's sac fly scored a second run.  Aiden Shepardson doubled home a run. The BJ's committed three errors in the first two innings allowing three runs on five hits against starter Garrett Bonnett. But Bonnett wiggles out of a bases loaded one out jam to keep the game tied 3-3 in the second.  Grant ripped a double to lead off the fourth and Shepardson doubled him home.  Shepardson scored on a wild pitch.  The BJ bullpen too ku from there.  Cole Evans worked a scoreless inning.  Cory Didier went three sparkling innings with eight strikeouts.  Payton Strambler earned the save with a scoreless ninth.
It was all Bee Jays in the 6 pm nightcap against Team Elite.  Liberal scored six in the second, five in the third, five in the fourth, and three in the seventh.  Jake Schulz was 4-5 with a homer, a double, and six RBI's. Caeden Trenkle was 4-6 with a homer, a double, and five RBI'a.  Tyler Hankins pitched three strong innings with five strikeouts.  Calvin Hunt worked two scoreless innings with five strikeouts.  Harris Shoemaker worked two scoreless innings.  Liberal out hit Team Elite 20-4.  Elite had three errors and Liberal did not commit an error.
The Bee Jays have won nine in a row and are 9-1.  Elite is 3-1-1 and Team Charlotte is 2-2.
The Bee Jays play Thursday at 4 against the Lake Hefner Pelicans and at 6:30 vs the Norman River Rats.  The games will air on 1270 and kscbnews.net with the Dugout Show at 3:45.
Game 1 audio, Bee Jays at OKC Team Charlotte:
Game 2 audio, Bee Jays at OKC Team Elite: