The End of the Road for the Lady Red
Brock Kappelmann - March 7, 2021 8:28 am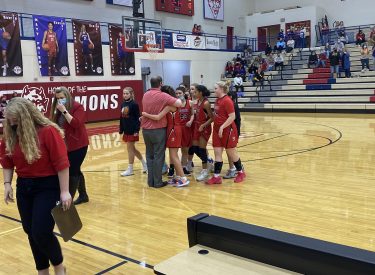 The Liberal Lady Redskins made #4 Dodge City work for it, but Liberal didn't have enough to overcome the Lady Demons Saturday afternoon in the Dodge City Field  House. Dodge City finished the afternoon in celebration with a 56-47 win over LHS.   Liberal's streak of three straight state tournaments comes to an end.  Dodge City makes state for the first time since 2016.  Dodge sweeps all three against Liberal this season.
Dodge jumped all over Liberal early taking a 10-1 lead.  A couple of Ashley Carrillo three's and DCHS turnovers helped LHS climb back in the game and trail just 13-9 after one quarter.  Dodge City raced to a 20-11 lead in the second quarter but the Lady Redskins rallied with and 8-0 run to make it 20-19.  Dodge City led 22-19 at the half.  Liberal struggled in the third quarter as the Lady Demons out scored LHS 14-7 in the third and led 34-23 and 36-26 after three.  Dodge City looked like they may blow Liberal out with a 43-28 lead.  But Liberal had one more furious rally left in them.  The Lady Red's 11-0 run after three's by Reece Hay and Halle Payton made it 43-39.  Liberal trailed 46-42 with 2:20 to play.  But the comeback was complicated by the foul situation at Dodge City was in the double bonus and made 1-2 at the foul line on several occasions to keep LHS at arm's length away.
Dodge City dominated Liberal on the glass 31-11.  Dodge City shot 46 percent and Liberal shot 41 percent.  Dodge City committed 18 turnovers and Liberal has 15.  LHS made 5-12 from three and Dodge was 5-18.  LHS was 14-18 at the foul line and DCHS was 19-24.
Ashley Carrillo led LHS with 20 points.  Aubrey Warden scored 13 in her last game with the Lady Red.
Liberal's seniors Halle Payton, Reece Hay, Logan Dodge, and Aubrey Warden finish 40-5 in their two years as upper classmen and the program was 85-8 in their four years.  Liberal finishes 17-5 and Dodge City is 20-1.