The Dark Side of Playing the Force
KSCB News - July 27, 2013 8:58 pm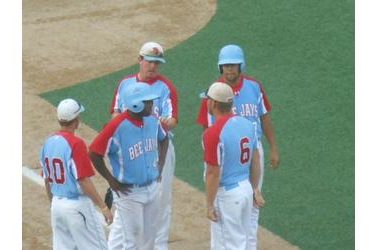 In a tough first round matchup against the WBL champion San Diego Force, the Liberal Bee Jays lose 3-2 in 13 innings Saturday afternoon at the 79th NBC World Series at Lawrence-Dumont Stadium in Wichita. The Bee Jays would now have to win six games just to advance to the tournament's new 16 team Championship Week which begins Friday.
This was a pitcher's dual after the first. The Bee Jays scored one in the first when Seth Stevens singled home newcomer from the Dodge City A's Louis Diaz. Te Force scored two in the first against Justin Bethard who worked seven innings with seven strikeouts. Tyler Buss came in and pitched three and two-thirds scoreless. Chad Nack pitched the rest of the game in the loss.
Liberal didn't have one multi hit inning. They are 24-18 and play the Albuquerque Diablos Sunday when the rain clears on 1270 and kscbnews.net. The BJ game will be the second game of the day. The Force is 35-6.