The BJ's Hail the Chief Saturday with Bob Carlile Night
KSCB News - June 27, 2012 2:07 pm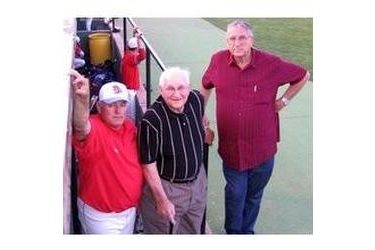 Liberal Bee Jays to Honor Bob Carlile
Liberal, Kansas — The Liberal Bee Jays will honor and remember Bob Carlile on Saturday, June
30, 2012 at Brent Gould Field when the Bee Jays host the Haysville Heat. The game is being
designated as "Bob Carlile Night". The game is scheduled to start at 7:00 p.m. Bob passed away
on January 6, 2012 in Liberal, Kansas. Bob was a life long fan, volunteer and benefactor of the
Liberal Bee Jays.
At the time of his death, Bob was general manager for the Bee Jays – a position that he had held
for several years. Bob was instrumental in bringing former Bee Jay and Major League Baseball
manager Mike Hargrove back to coach the Bee Jays in 2009, which set the stage for the National
Baseball Congress (NBC) Championship team in 2010. In 2008, Bob was inducted into the
Kansas Baseball Hall of Fame, and in 2010 he was inducted into the National Baseball Congress
Hall of Fame. "The efforts, support, attitude, personality and leadership of Bob were greatly
appreciated and are surely missed. His contributions to the organization were tremendous."said
Bee Jays President, Nathan McCaffrey. "Brent Gould Field will be a little bit different this
summer without Bob encouraging the players and roaming the ball park to greet fans and
welcome visitors", he added.
As part of "Bob Carlile Night", the Bee Jays are retiring jersey number 34 from the line-up. The
number 34 is significant because Bob and his family hosted 34 different baseball players during
the course of his involvement with the Bee Jays. Four of the five surviving jerseys which bear
#34 are going to be enclosed in shadow boxes. Three of these shadow boxes will be presented to
members of the Carlile family and the fourth shadow box will be displayed publicly. The fifth
jersey will be retained by the Liberal Bee Jays. The presentation ceremony will begin at
approximately 6:40 p.m. There will also be audio interview clips of Bob talking about the Bee
Jays played throughout the game. The singing of "Take Me Out To The Ball Game", played
during the 7
th inning stretch, will also be dedicated to Bob.
The Liberal Bee Jays are one the nation's top semi-pro summer baseball programs as designated
by the National Baseball Congress (NBC). The Bee Jays were formed in 1955 and are members
of the Jayhawk League. The team has a long and successful history with the NBC, including
five NBC National Championships.
# # #